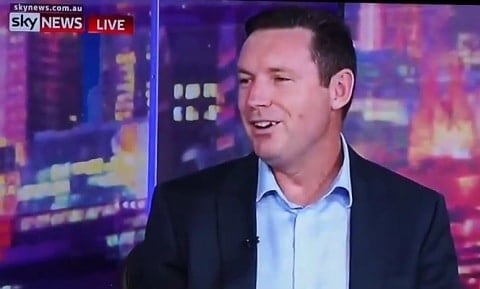 The head of the Australian Christian Lobby (ACL) activist group says that one of the reasons he opposes gay marriage is that people might assume he's gay if marriage equality is legalized in Australia. 
Speaking with Sky News, Lyle Shelton said that if marriage equality comes to Australia, it could no longer be assumed that "millions of people like myself are married to women."
Later in the interview Shelton said that there was a "reign of terror" against anti-gay activists during last year's marriage equality referendum in Ireland.
This morning, Shelton voiced concerns that those who argue against same-sex marriage in the upcoming campaign will be faced with the "constant threat of quasi and full-blown legal action".
I do not wish this on anyone. But I do want freedom to respectfully speak in favour of marriage being left alone. https://t.co/iTcOSS7FnQ

— Lyle Shelton (@LyleShelton) February 13, 2016
Meanwhile, Australian Equality party candidate Jason Tuazon-McCheyne has suggested that the government should just change the law to prevent "what is going to be months of harassment for gay, transgender and intersex people and their children."
The ACL, for its part, is also currently campaigning against the Safe Schools transgender awareness program.
Watch Shelton's comments at the 12:30 mark below.