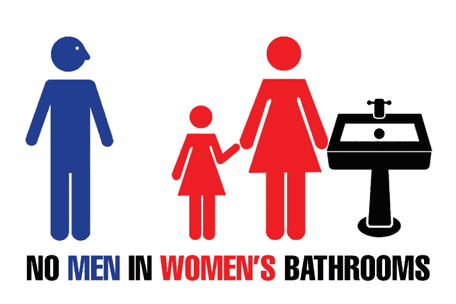 More than three months after the defeat of Houston's Equal Rights Ordinance (HERO), LGBT advocates still haven't come up with a winning strategy to defeat the transgender bathroom myth.
HERO was overwhelmingly repealed in Houston, the nation's fourth-largest city, based on false, fear-mongering ads suggesting it would allow men to enter women's restrooms and prey on victims. Now, the same disgusting lie has all but derailed a proposal to add LGBT protections in the nation's fourth-largest state.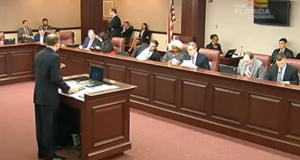 After a two-hour debate dominated by concerns about "men in women's bathrooms," a Florida Senate committee deadlocked Monday over a proposal to ban anti-LGBT discrimination statewide. Ordinarily, the tie vote would mean the bill is dead, but thanks to a procedural move, the committee will reconsider it today. However, chances for passage are said to be slim, even if it does clear the Senate Judiciary Committee.
The Orlando Sentinel reports:
After two hours of contentious debate that included the phrases "anatomical male" and "male parts," a bill banning employment discrimination on the basis of sexual orientation or gender identity failed to pass through its first Senatecommittee Monday. …
Despite broad support from a group of businesses and an attempted compromise by Sen. David Simmons, R-Altamonte Springs, social conservatives on the panel feared transgender females would be legally allowed to use women's bathrooms and gym locker rooms under the measure.
"This bill would allow an anatomical male to undress as a public accommodation in a gymnasium?" said Sen. Jeff Brandes, R-St. Petersburg, who asked the question several times.
An amendment was offered to clarify that trans people would be required to show a medical history or longstanding evidence of identifying as a certain gender before using facilities accordingly, but opponents of the bill weren't satisfied:
Sen. Wilton Simpson, R-Trilby, who was concerned about a "cottage industry" of trial lawyers pursuing LGBT discrimination lawsuits.
"I'm all in favor of people treating people fairly and accommodating people," Simpson said, but with the bill "you could have a lot of weirdos doing weird things in bathrooms. Men or women."
The Senate Judiciary Committee is expected to consider the bill again at 4 p.m. today.
Listen to excerpts from Monday's hearing here, or watch the proceeding in its entirety here.