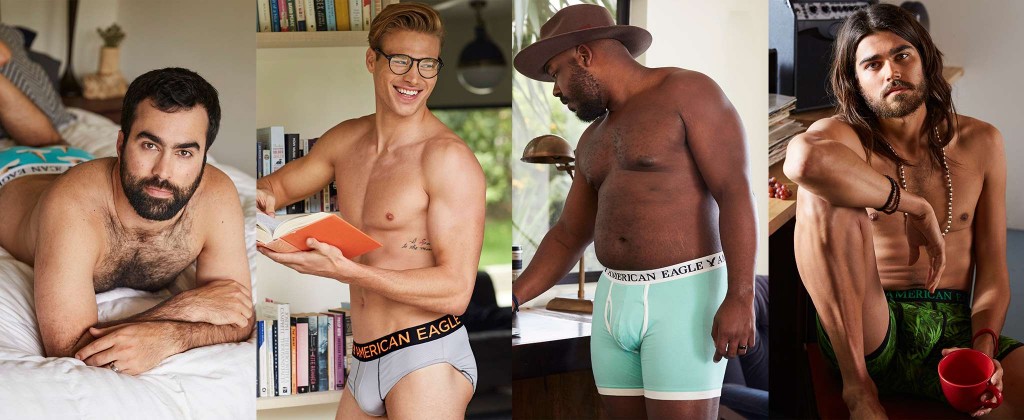 American Eagle has launched a new men's underwear line called Aerie Man that's all about positive body image and loving the skin you're in.
The company unveiled the new line with an ad campaign that celebrates bodies of all types. Aerie, which also makes underwear for women, has become known for not using retouched photos in its ads, and for creating the #AerieReal campaign. The tagline for that promotion as well as for the launch of Aerie Man is a reaffirming one: "The real you is sexy."
As part of the new #AerieMAN launch, the company profiled 4 different men–Devon, Doug, Matt and Kelvin–to talk about confidence, sexiness and body image.
"I don't mind that I won't be retouched," Matt [above, 3rd from left] says in the accompanying campaign video. "I feel that everyone should be comfortable in their own skin."
"This message is going to help guys feel more comfortable in there own skin," Kelvin Davis (seen below) said over email. "It's important for everyone to feel beautiful and confident. The #AerieMan is unretouched and embraces his physical perfect imperfections as all men should. Guys hopefully will be more confident and extend that confidence to fellow men!! After all the real you is sexy!" Davis is the founder of Notoriously Dapper, a body positive style guide for men.
Watch the 4 profiles created by #AerieMAN, plus the introduction of the new line, below.