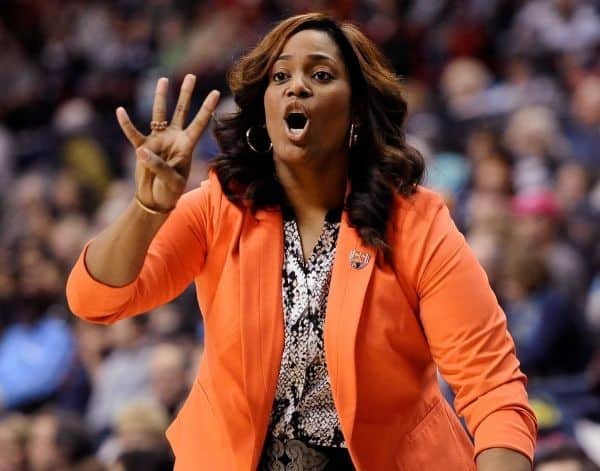 Prairie View University has fired its women's basketball coach for violating Title IX of the U.S. Education Amendments by suspending two players for dating each other.
Prairie View is a historically black university near Houston that is part of the Texas A&M University System, which is not exactly known for being progressive on LGBT issues. But Prairie View determined that coach Dawn Brown violated Title IX's prohibition on sex-based discrimination, which both the Obama administration and some federal courts have said includes sexual orientation.
Brown claims she enacted the policy after an assistant coach was fired for having a relationship with a player, and that it was approved by Prairie View's Title IX coordinator. The policy states that players "may not have nonprofessional relationships with other players, coaches, managers, trainers, or any other persons affiliated" within the program.
"Clearly, I feel betrayed and unjustly penalized by this action," Brown said in a statement to USA TODAY Sports.
More from The Houston Press:
It was only three months ago that a judge, apparently for the first time, even acknowledged that discrimination based on sexual orientation should be prohibited under Title IX. In a case in California, two female basketball teammates who were dating at Pepperdine University filed a Title IX complaint in federal district court, saying that, after they came out as a lesbian couple, their coach wanted them off the team because their relationship would cause the team to lose games, according to the lawsuit. The coach allegedly told them that "lesbianism would not be tolerated" and harassed them with constant questions about things like where they slept and how often they saw each other.
When Pepperdine filed a motion to dismiss the case, arguing that discrimination based on sexual orientation wasn't a valid Title IX claim, U.S. District Judge Dean Pregerson disagreed. He said, "The line between discrimination based on gender stereotyping and discrimination based on sexual orientation is blurry, at best," and that any distinction between the two was "illusory and artificial."
Women's college basketball has long been a bastion of homophobia. In fact, only one of 350 Division I coaches, Portland State's Sherri Murrell, is openly gay.
The Miami Herald shed light on this phenomenon back in 2014:
Parents of recruits still sometimes ask college coaches: "Do you have any gay players on your team?" Heterosexual coaches routinely prey on parents' fears and religious beliefs, using homophobia as a recruiting tactic to steer high school players away from unmarried female coaches.
"There is a fear among parents that if their son or daughter is around a gay person, it is going to make them gay, like it's a contagious disease," Russo said. "There is still so much prejudice and ignorance out there. Male coaches, and some women, will say to parents, 'Do you know so-and-so's gay?' It just takes that to put a little doubt in their minds. And it works." …
Heterosexual coaches on the recruiting trail flaunt their straightness with photos of spouses and children, boasting that their programs are steeped in "family values" while insinuating that a competing coach is gay or runs a gay-tolerant program that does not foster a "family culture."