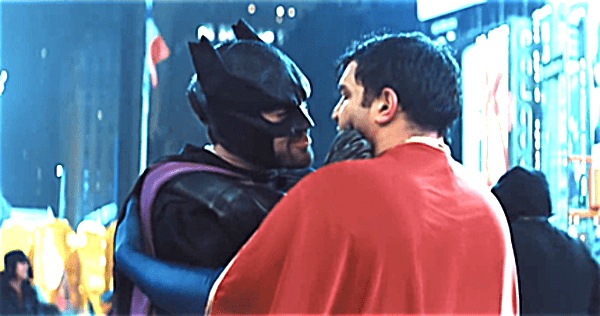 Band Coheed and Cambria are thought of as a progressive rock band (prog rock, for short). And from the looks of their latest music video, their music isn't the only thing about them that's progressive.
In the video for "Island", two superhero imitators, playing Batman and Superman respectively, develop an intimate connection that ends with the two making out in New York's Times Square.
Said lead vocalist Claudio Sanchez of the inspiration behind the video, "When I think of these two iconic characters, I think of opposite attraction. I think of myself and my wife. How two opposite ends of a spectrum can create harmony and balance. In one way or another, these characters have been paired up with like-minded love interests, the Bat and the Cat… The Alien and the Amazonian… I wanted to bring the Dark and the Light together."
Zack Snyder, take note.
Watch the music video, below.