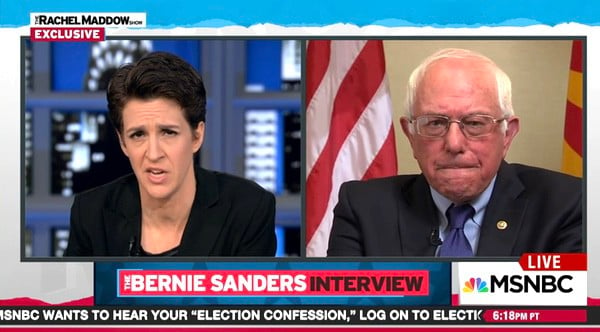 Bernie Sanders sat down with Rachel Maddow last night and she asked the candidate, who trails by a sizable number of delegates, what the road looks like from here for his campaign.
Clinton currently has 1,606 delegates (1,139 pledged with 467 superdelegates) while Sanders has 851 (825 pledged with 26 superdelegates).
Asked Maddow to Sanders:
"I wonder if you could imagine a scenario in which you're still behind Secretary Clinton in terms of delegates but you went all the way to the convention this summer and tried to make a case of yourself by persuading the superdelegates to support you instead of her? Is that something you could imagine doing?"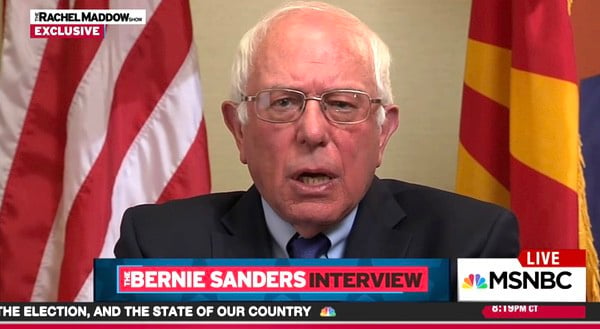 Sanders replied that he sees a path to victory because much of the West hasn't voted yet.
Said Sanders
"Secretary Clinton has done phenomenally well in the deep South and she has picked up a whole lot of delegates there. We are now moving beyond the South. We are moving west where we think the terrain favors us. West coast is probably the most progressive region of the United State of America. We think we have a good shot – cant guarantee it – of winning a whole lot of states , of winning a whole lot delegates, of perhaps winning California, Washington, Oregon, many of the smaller states, and winning New York state.
"We think if we come into the convention in July in Philadelphia having won a lot of delegates, having a whole lot of momentum behind us and most importantly perhaps, being the candidate who is most likely to defeat Donald Trump, we think that some of these superdelegates who have now supported Hillary Clinton can come over to us."
Watch:
And recently, the New York Times reported that President Obama privately told top-level Democratic donors that they should rally around Clinton as Sanders' campaign was nearing its end.
Mr. Obama chose his words carefully, and did not explicitly call on Mr. Sanders to quit the race, according to those in the room. Still, those in attendance said in interviews that they took his comments as a signal to Mr. Sanders that perpetuating his campaign, which is now an uphill climb, could only help the Republicans recapture the White House.
Maddow asked Sanders to respond to those reports.
Said Sanders:
"The bottom line is that when only half of the American people have participated in the political process, when some of the largest states in this country have not been able to voice their opinion on who should be the Democratic nominee, I think it's absurd for anybody to suggest that those people not have a right to cast a vote…"
Added Sanders": "To suggest that we don't fight this out till the end would be a very bad mistake."
Watch: