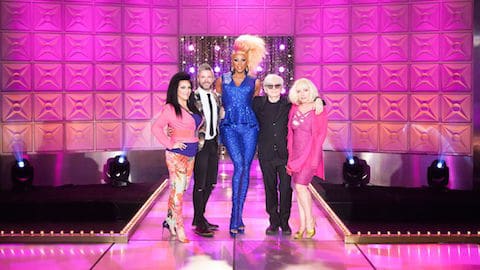 It was all keytars and Kajagoogoo on last night's RuPaul's Drag Race when the remaining queens paid homage to new wave.
Blondie founders Chris Stein and Debbie Harry joined the judging table and lent some credibility to the evening's musical odes to street meat, chicken wings and … shapes, or something.
Considering the creative demand placed on the queens as they had to write lyrics and sing live this week, most of them did a pretty decent job! Who had a real a-ha moment and who was asked to go-go? Find out below!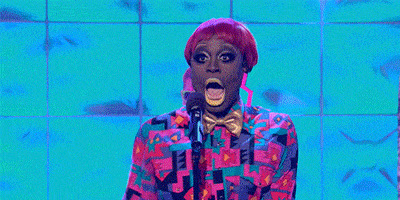 There was no mini challenge, and the neon-themed runway walks felt like they were broadcast in double-time, which meant we spent lots of time on this week's main challenge. The ladies were tasked with splitting themselves into groups of three to tackle tracks in the genres Party, Synth and Punk.
Team Bob, Thorgy and Betty sweet talked their way into getting the Party tune and wrote lyrics about gyro carts. Thorgy and Bob clashed in the workroom over Thorgy's negativity, and Thorgy made some comments venting her frustration over being this season's Susan Lucci (receiving praise from the judges, but not the win). Their high-energy performance transcended the drama, successfully infusing their humor into the song and committing 100 percent to the live performance.
Team Les Chicken Wings (Naomi, Robbie and Kim Chi) was a close second, in my eyes. They put the pun in punk with their snarling, Weird Al-esque (which I guess is a compliment in this context) song about sucking bones, thigh meat, etc. What really made it shine though were all the moments of self-deprecating humor woven in, like rhyming "crispy" with a line about Kim Chi being "lispy."
Finally, Team Leftovers (my name, not theirs) cobbled together a sub-Demi Lovato level confidence anthem about … shapes, or something. I get the geometric reference point they were going for and the "love yourself no matter your shape" sort of message, but boy was that a mess. The lyrics were inscrutable, and their outfits included these awful headpieces with craftsmanship that wouldn't qualify for a high school drama production. Worse yet, this team (Derrick, more specifically) was the only one who tried to really sing — excuse me, sang — the songs with Mariah/Christina vocal embellishments.
One last point before we get into the rankings: On this week's runway, Michelle used the term "ratchet drag" which is something Derrick got a lot flack for using in the trailer for this season. (His use of the term comes up next episode.) Michelle Visage, who has called herself a gay man and a black man in the past, is a complicated study in identity politics, for sure. And she's sort of emblematic of RuPaul's and Drag Race's staunch defiance of the imaginary "P.C. police" or "word police" or whatever. I don't say this to pardon poor, simple Derrick for parroting it back next week, but just to underscore that it felt gross when she said it too.
OK, on with the rankings!
1. It's a toss-up for me this week between Bob and Thorgy. Both queens gave solid, clever performances, but both queens also showed a bit of ugly attitude. Working with Lucian, Bob just came off as cranky. I don't think it was egregious enough to truly shake Bob's standing, especially since none of the other queens really ran away with the show this week, but it wasn't the cutest look. Team Street Meat gave the best performance of the night, including creative choreo and the joke of the night, "big black beans."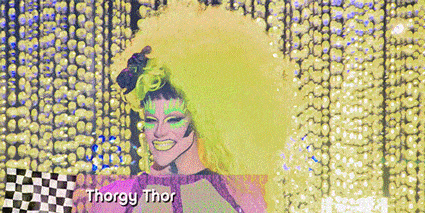 2. Thorgy lights up the stage whenever she's up there. I didn't even hate her runway look the same way the judges did. (The black makeup was a bit too far, but those neon green lashes were everything.) That said, her nitpicking and negativity in the workroom was a real drag. Let's hope that was mostly editing's fault as they manufacture a rivalry between Thorgy and Bob.
3. Kim Chi's runway look was a showstopper, and I wonder if the judges either didn't appreciate it or the rushed runway walks just didn't show them gagging so. She was a lot of fun during her performance and probably brought the most punk energy to the stage.
4. On a week where the lovable Thorgy and charming Bob are getting clocked for their attitude, Acid Betty actually came off looking less villainous than the previous few episodes. Her performance look was indeed a bit of a mess, but, I mean, Naysha wore a lopsided circle on her head, let's be real. Plus, that runway look was incredible. I'm not quite rooting for Acid Betty to win this thing, but I want to see her, Kim, Bob and Thorgy really duke it out.
5. As much as I love me some Naomi Smalls, middle of the pack is where she belongs. She's risen to the challenge each week, but I don't think she can outlast the NY girls and Kim Chi.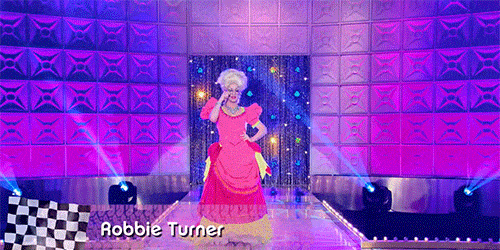 6. Robbie was the winner this week, sure, but after weeks of struggling, it wasn't a dominating enough win to launch her ahead of the other queens. I sort of hated her neon look, personally, but she owned her punk-inspired performance, right down to hocking the band's vinyl at the back of the show.
7. Chi Chi's bubbly personality was a big part of her success so far, so when she turned sour this episode (and lobbed excuses at the judges), it felt like the beginning of her end. Though, to be fair, the episode sent some mixed messages. Kim Chi literally said earlier that drag is an expensive art, and then Michelle said money is no excuse. So which is it? Considering she was stuck with the leftovers this week, I understand her bitterness, and at least she turned out the best performance of her trio. Still, those fast-fashion runway looks are not going to pass muster with the likes of Kim Chi and Acid Betty up there.
8. Even though she escaped the judges' bottom two, I still find Derrick pretty toxic. First, she responds to the judges' request for more soul by suggesting she takes up twerking, which, sigh, come on. If that wasn't bad enough, she insisted on "singing" despite Lucian's gentle suggestion that maybe singing wasn't exactly that group's forte. I love me some Debbie Harry, but I don't know what she heard to make her call that voice excellent. You know, not every Drag Race has to try to be a singer. Can we all just agree on that?
9. Ooh, Naysha, what was that lip sync? What was that dance move she kept doing? What was that desperate attempt to recreate the legendary Raja/Carmen Carrera lip sync moment? All of it was bad. What a wasted opportunity to bring in a queen to shake things up. It's almost enough to make me miss Laila McQueen.
Next week: Snatch Game!
How would you rank the queens?