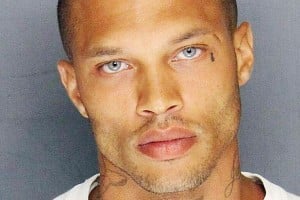 STRIKE A POSE. World's hottest convict Jeremy Meeks is now an ex-convict with a modeling contract.
SXSW. Speaking at the festival in Austin, President Obama warned against "fetishizing" our phones, referring to the FBI case against Apple: "'I am way on the civil liberties side of this thing,' Obama insisted. 'I anguish a lot over the decisions we make in terms of how we keep this country safe.' But, he added, 'the dangers are real.'"
FOOT IN MOUTH DISEASE. Caitlyn Jenner says that Donald Trump would be great for women: "Um, I'm not a big fan because I think of his macho attitude. I think he would have a hard time with women when he doesn't even realize it, and it doesn't mean he wouldn't be good for women's issues, I think he would be very good for women's issues. Kill me now. I don't think he's out there to destroy women or takes things away or do any of that kind of stuff."
FILM. Tim Burton is reportedly ready to do a Beetlejuice sequel. 
SPACE. Astronaut Scott Kelly announces he's retiring: "NASA announced Kelly's retirement Friday, which begins April 1. The 52-year-old Kelly holds the American record for most time in space: 520 days over four missions. Kelly spent 340 days in orbit on the International Space Station to see how the human body holds up for long periods of time in space. His results are being compared to his twin brother, Mark, who is a retired astronaut."
MUSIC. Anohni releases music video for track "Drone Bomb Me" starring Naomi Campbell.
TECH. GM purchases company Cruze automation in hopes of developing its own driverless car: "The company has not yet announced when Cruise's technology will be integrated into GM vehicles, only that it will be "as soon as possible," said Kevin Kelly, a GM spokesman. The deal marks Detroit's latest foray into Silicon Valley. Also on Friday, Ford Motor Co. announced the creation of Ford Smart Mobility LLC, a subsidiary focused on designing, building and investing in such things as connected vehicles and autonomous technology."
TELEVISION. Tony Goldwyn (aka President Fitz) sure has been shirtless a lot on Scandal lately.
ENVIRONMENT. A bacteria that eats plastic could help with our trash problem: "Most plastic degrades extraordinarily slowly, but PET — short for polyethylene terephthalate — is especially durable, and about 61 million tons of the colorless plastic was produced worldwide in 2013 alone, according to the researchers. Previously, the only species found to break down PET were rare fungi. Now, scientists in Japan have discovered bacteria that can biodegrade this hardy plastic."
FYI. Important facts to know should the Republicans have a contested convention. 
SEXUAL IDENTITY. Study finds less than half of teens in the U.S. identify as exclusively heterosexual: "A new study that will be released Friday at SXSW shows that only 48 percent of young Americans, commonly referred to as Generation Z, are exclusively heterosexual. J. Walter Thompson Innovation Group, part of the 152-year old JWT multi-national advertising agency, using a zero to six scale asked Americans aged 13-20 to plot their sexuality. Similar to the famous Kinsey Scale, zero is exclusively heterosexual, and six exclusively homosexual…More than a third of the Gen Z respondents chose between one and five, suggesting they are somewhat bisexual."
INSTASTUD. Say olá to Brazil's Max Souza.
https://instagram.com/p/BBNFuSciNTV/?taken-by=maxs_souza92
And his hot friends.
https://instagram.com/p/BAXxRqFCNRD/