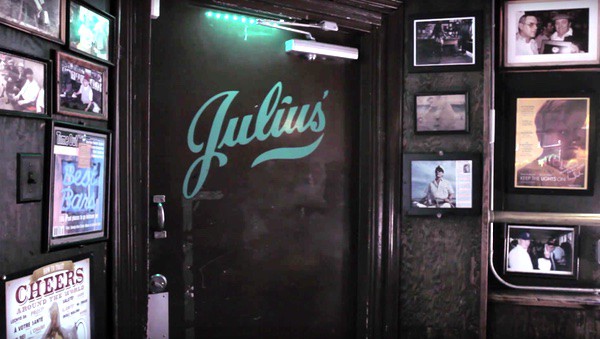 New York Governor Andrew Cuomo today recommended the addition of 19 properties, resources and districts to the State and National Registers of Historic Places. Among them is Julius, the oldest gay bar in New York City, and the site of a 1966 "sip-in" which  successfully challenged New York State Liquor Authority regulations prohibiting bars from serving drinks to known or suspected gay men or lesbians.
The move sets up Julius to be considered for recognition as a national historic landmark.
Said Cuomo:
"These landmarks are a part of our rich and storied history and helped define what it means to be a New Yorker. By placing these landmarks on the State and National Registers of Historic Places, we are preserving their legacies and ensuring that they will be enjoyed for generations to come."
Watch a great video produced by the Greenwich Village Society for Historic Preservation:
More from the governor's office on the designation:
State and National Registers listing can assist property owners in revitalizing buildings, making them eligible for various public preservation programs and services, such as matching state grants and state and federal historic rehabilitation tax credits. Spurred by the state and federal historic rehabilitation commercial tax credits administered by the State Historic Preservation Office, developers invested $550 million statewide in 2015 to revitalize properties listed on the National Register of Historic Places, while homeowners using the New York State Historic Homeowner Rehabilitation Tax Credit invested more than $12 million statewide on home improvements to help revitalize historic neighborhoods.
The State and National Registers are the official lists of buildings, structures, districts, landscapes, objects and sites significant in the history, architecture, archeology and culture of New York State and the nation. There are more than 120,000 historic buildings, structures and sites throughout the state listed on the National Register of Historic Places, individually or as components of historic districts. Property owners, municipalities and organizations from communities throughout the state sponsored the nominations.
Once the recommendations are approved by the state historic preservation officer, the properties are listed on the New York State Register of Historic Places and then nominated to the National Register of Historic Places, where they are reviewed and, once approved, entered on the National Register.