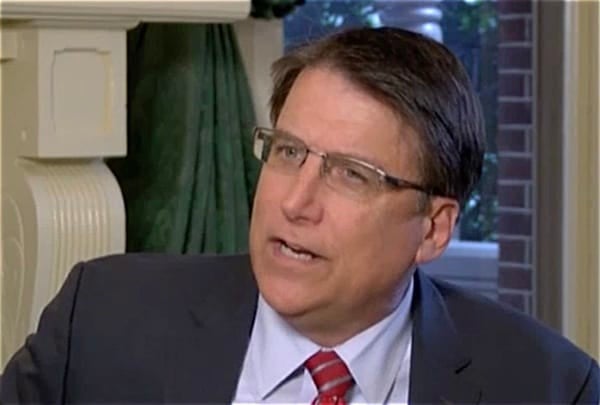 UPDATE: McCrory has SIGNED the bill into law.
North Carolina Governor Pat McCrory's office will sign a bill tonight that will ban all local LGBT rights ordinances in the state. The bill was passed in a rushed special session by the state legislature today.
#ncgov's offce now says McCrory will sign bill this evening (Weds.) #ncga #ncpol #wral https://t.co/ihSD7H8qt9

— WRAL Gov't Coverage (@NCCapitol) March 23, 2016
This governor is so eager to sign the most anti-LGBT bill in the country that he's going to do it tonight! #HB2 pic.twitter.com/EwjjqxAS0S

— Eric Lesh (@EDLesh) March 24, 2016
Late this afternoon, the North Carolina Senate voted unanimously, 32-0, to pass a bill approved by the House earlier today which bans all cities in the state from enacting LGBT nondiscrimination ordinances. It also voids all current LGBT rights ordinances on the books in North Carolina, such as the recently passed measure in Charlotte.
The vote took place after all Democrats had left. All Republicans present voted yes.
The bill now goes to Governor Pat McCrory, who says he will sign it tonight.
In February, McCrory promised to act immediately after Charlotte passed its nondiscrimination ordinance.
McCrory called the Charlotte ordinance "a pretty dramatic change in basic standards and values" that affect people beyond Charlotte which "allow someone who has the anatomy of one gender to use the bathroom or locker room facilities of another gender."
Said McCrory to the Charlotte Observer:
"What I anticipate is immediate legislation in April which would ensure that no city or town in North Carolina would be allowed to pass a regulation or implement a regulation which would basically invade the basic standards and privacies of people who want to feel secure in a restroom or locker room facility….From a state perspective it's saying that we're making sure that we're not having too much intrusion by not just the federal government but the state government and local governments."
Added McCrory:
"I'm getting involved in an issue which transcends political boundaries."
However, McCrory had wanted lawmakers to take up the measure when they reconvened in April and not convene a special session costing taxpayers $42,000 a day.
McCrory said he wanted lawmakers to wait until the legislature reconvened on April 25 and expressed concern through a spokesman that "the proposal being considered goes beyond the scope of the bathroom issue and includes unrelated subject areas" adding that "Anything above and beyond the bathroom (issue) … should be dealt with during the full legislative session."
The ACLU denounced the bill's passage:
The Charlotte ordinance protected lesbian, gay, bisexual and transgender residents from discrimination in public accommodations including restaurants, hotels, taxis and bathrooms. Among other protections, it allowed transgender men and transgender women to use the restroom that corresponds to their gender identity. HB2, which now goes to Governor Pat McCrory for his signature or veto, removes the ability of any local government to protect people from discrimination on the basis of sexual orientation or gender identity and requires all public facilities, including schools, to allow restroom access only on the basis of "biological sex." It also jeopardizes the more than $4.5 billion in federal funding that North Carolina receives for secondary and post-secondary schools under Title IX, which prohibits sex discrimination, including discrimination against transgender students.
"Rather than expand nondiscrimination laws to protect all North Carolinians, the General Assembly instead spent $42,000 to rush through an extreme bill that undoes all local nondiscrimination laws and specifically excludes gay and transgender people from legal protections," said Sarah Preston, acting Executive Director of the American Civil Liberties Union (ACLU) of North Carolina. "The manner in which legislators passed the most extreme anti-LGBT bill in the nation – voting hours after it was unveiled without adequate public debate – flies in the face of fairness and democracy. Legislators have gone out of their way to stigmatize and marginalize transgender North Carolinians by pushing ugly and fundamentally untrue stereotypes that are based on fear and ignorance and not supported by the experiences of more than 200 cities with these protections. Transgender men are men; transgender women are women. They deserve to use the appropriate restroom in peace, just like everyone else. We urge Governor McCrory to veto this extreme, far reaching and misguided bill."
More than 200 cities, including Myrtle Beach and Columbia, South Carolina, have adopted nondiscrimination ordinances similar to Charlotte's without negative consequences.
Statement from GLAAD:
Statement from @glaad on North Carolina's anti-lgbt bill. pic.twitter.com/rIFneAiAMW

— Ryan Ruggiero (@RyanRuggiero) March 24, 2016