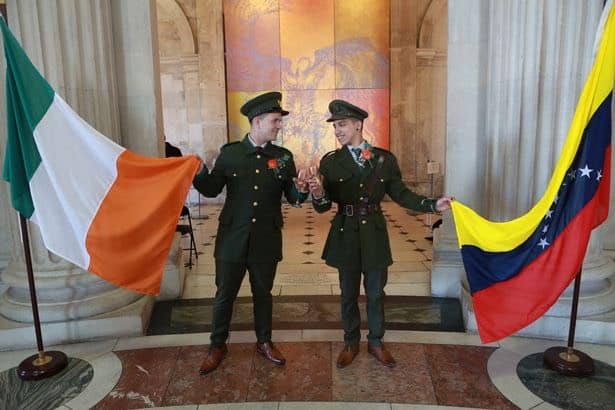 A gay couple living in Ireland recently appeared on a reality TV show to highlight their unconventional wedding.
The unconventional part of their nuptials, however, had nothing to do with the fact that the couple are both men. Rather, it was the wedding's historical theme that made this ceremony stand out.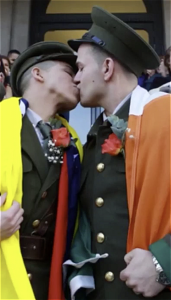 Via The Mirror:
When Mark White and Kerwin Villabolos [from Colombia] decided to get married , Kerwin was set on a "white, modern, sleek and classy" look.
But it was Mark who won in the end, with his own treasured vision of a 1916-themed wedding.
"white, modern, sleek and classy" look. […]
Hairdresser Mark planned the whole wedding himself, keeping it a secret from dancer Kerwin, and explained he opted for a 1916 theme to show how far Ireland has come in history after same-sex marriage was legalised last year in a public referendum.
The 1916 theme in particular harkens back to the 1916 Easter Uprising, a key moment in the fight for Irish independence. More on that event from History.com: 
On Easter Monday, April 24, 1916, a group of Irish nationalists proclaimed the establishment of the Irish Republic and, along with some 1,600 followers, staged a rebellion against the British government in Ireland. The rebels seized prominent buildings in Dublin and clashed with British troops. Within a week, the insurrection had been suppressed and more than 2,000 people were dead or injured. The leaders of the rebellion soon were executed. Initially, there was little support from the Irish people for the Easter Rising; however, public opinion later shifted and the executed leaders were hailed as martyrs. In 1921, a treaty was signed that in 1922 established the Irish Free State, which eventually became the modern-day Republic of Ireland.
Speaking to the Irish Mirror, Mark said of the theme,
"What better way to celebrate being Irish than having an Easter Rising themed wedding?
"I probably would've been burnt at the stake 100 years ago for being gay so it's amazing now that two men can stand up and tell the world they love each other and legally get married here."
Watch video on the planning for the wedding, below.