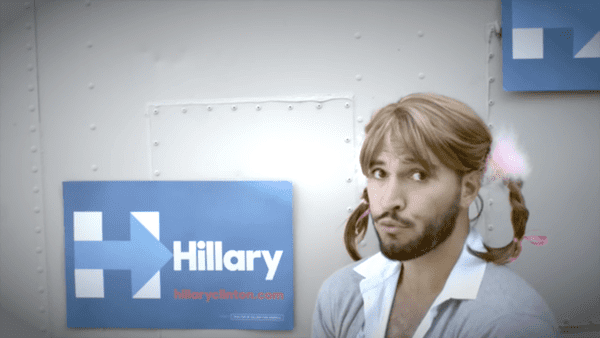 A couple weeks ago, Hillary Clinton met Britney Spears in Las Vegas while in town for a town hall event. Spears shared photos of the two on Instagram which caused some minor controversy at the time because she first included the hashtag #ImWithHer — used to signal support for Clinton's candidacy — and then deleted the hashtag, suggesting to some that Spears didn't intend to endorse Clinton.
https://instagram.com/p/BB9O_xTG8PK/
https://instagram.com/p/BB9Vum9G8GT/
Now, Hillary and Britney have once again met but in an altogether different way.
Actor and parody-maker Adrian Anchondo has brought the two female powerhouses together in a political parody of Spears' breakout hit "Baby One More Time" that is all about loving on Hillary. In "Hillary One More Time", Anchondo recreates Spears' "Baby One More Time" music video and explains why he's ready for Hillary.
Anchondo sings,
Obama baby, I'm insured now because of you / But she was the first to try it / Hillary baby, there's nothing that you wouldn't do / You've got the wounds to prove it / Show me how you will protect me / Show me baby because they're trying to take away our rights.
Anchondo and his troupe have many more reasons why they want Clinton to "Hillary Me One More Time."
Check out the video, and watch for a cameo from Drew Droege, below.
And if there is a primary or caucus in your state today be sure to vote or caucus!