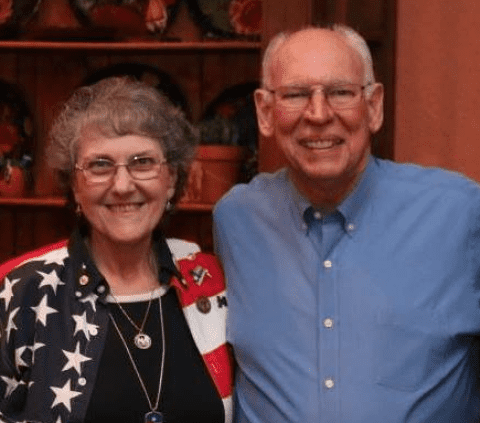 Last month, we told you how a candidate for Texas' State Board of Education recently wrote on Facebook that President Barack Obama has "a soft spot for homosexuals" because he spent years working as "a male prostitute" in his 20s.
Retired teacher Mary Lou Bruner (above with Sen. Ted Cruz's father, Rafael) is one of three candidates who'll meet in today's GOP primary for the District 9 seat on the 15-member board, which sets curriculum standards and has consistently made national headlines as an ideological battleground over Islam, evolution, climate change, sex education and other topics.
Although Bruner deleted the Facebook post in which she alleged Obama worked as a gay prostitute, she's apparently standing behind the claim.
"I don't intend to apologize for my opinions because I still believe my statements were accurate," Bruner told right-wing news site Breitbart Texas.
Bruner also addressed her assertion that baby dinosaurs were on Noah's Ark.
"As for my personal beliefs as to how the universe was formed, scientists have forced us to say creation is religion and evolution is science," she said.
At a recent forum, Bruner said the education system needs to return to core conservative values, lamenting that some high school students don't even know cursive, according to The Herald Democrat.
"I think we need to teach Bible and there are some people who want to throw out Bibles, grammar and spelling rules," Bruner said. "They think the kids will just pick those things up. I'm telling you they don't pick it up unless you teach it.
"I want the citizens to become alarmed about what is going to happen in school, it's already happening in some of them," Bruner added. "We weren't born yesterday, we know that global warming is a hoax. I think we need to teach truth in education and not lie to our children and lie to the public."
As crazy as Bruner sounds, her views are actually fairly representative of the tea party in Texas, and that's why today's primary is so scary. If enough right-wing candidates like Bruner defeat establishment Republicans, it may be time to start packing my stuff.
Watch a clip of Bruner testifying before the board of education a few years ago, when she alleged Muslims are using school textbooks to brainwash American children.