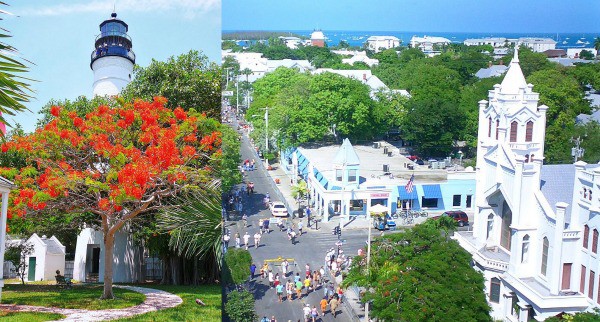 We may have just sprung forward, but winter continues to linger throughout much of the U.S.–a fact that may be causing you to dream about getting away to somewhere warm and tropical. In the summer we like to hit up the sandy shores of Provincetown but this time of year is the perfect time to visit Key West. If you haven't been to visit America's original gay getaway, you'll want to check out our 10 reasons why Key West, Florida is the Provincetown of the south plus 1 sexy way Key West stands on its own.
10. Artists galore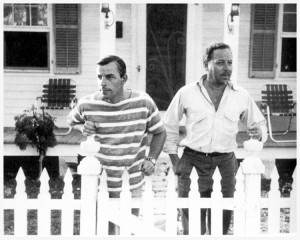 Like Provincetown, Key West is also known as an artist's colony. Key West has long been a favorite among gay authors, including playwrights Tennessee Williams, Jerry Herman (Hello, Dolly, La Cage Aux Folles), Terrence McNally, poet Elizabeth Bishop, and novelist Truman Capote. Williams in particular has the distinction of being Key West's most famous gay denizen and also its gay godfather of sorts. Williams famously wrote of living in Key West, "there is almost nothing to do at all but drink or swim or –." He also reportedly said of why he loved the island, "I work everywhere, but I work best here." Williams (far right) lived in Key West for years with his partner Frank Merlo (pictured left of Williams) in a tiny house on Duncan street, which still stands today. Writers seeking inspiration can pay homage to Williams at an exhibit set up here in his honor.
9. Location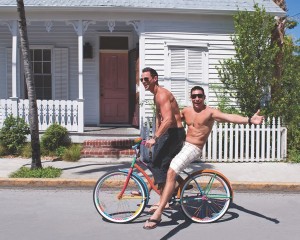 Perhaps one of the reasons why both Key West and Provincetown have become famed getaways for artists as well as gay men and women of all stripes is that both are far-flung. While Provincetown sits on the tip of Cape Cod, Key West is on the tip of the Florida Keys. It's also the southernmost point in the continental United States. Both cities are also small. Provincetown is just three miles long and two streets wide whereas Key West is contained primarily in a 2 mile radius. Because of its geographic limitations, Key West has maintained much of the charm that first drew visitors to its shores. Its small size also makes it easy to get around (biking is the preferred method of transportation) and see everything and everyone.
8. Family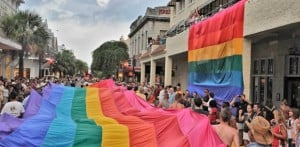 Speaking of seeing everyone, Key West, like Provincetown, has a highly concentrated gay population which means you can pretty much go anywhere in town and be surrounded by 'family.' While there's plenty of talk about the death of the gay bar (j'accuse Grindr) not to mention prophecies about the demise of specifically gay getaways, a trip to Key West reminds you that that the I-R-L gay community is still alive and thriving. For those who may not live in a gayborhood, coming to Key West and letting your hair down, so to speak, provides a distinct sense of freedom that our gay forebears also cherished. The other benefit of having so many 'family' members in one small stretch of land? If you're 'looking' (on an app or otherwise), you will find yourself in a target rich environment.
7. Food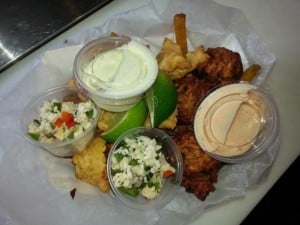 Great food abounds in Key West as in Provincetown. Whereas up north, visitors and locals prefer Ptown's prized lobster rolls, in Key West it's all about the conch. Sometimes called The Conch Republic, conch is just as popular in Key West as lobster is on the Cape. Head to Louie's Backyard for breathtaking sunset views and a trifecta of conch options: Bahamian conch chowder with bird pepper hot sauce; conch fritters with hot pepper jelly and wasabi; and coconut conch ceviche. At Casa Marina, sip an afternoon cocktail while chowing down on their famous Conch Balls. It should come as no surprise that places like Conch Republic Seafood Company and The Conch Shack serve up excellent (what else?) conch. Other great seafood options in town include Easton Street Seafood Market (perfect for lunch; beware the line), Half Shell Raw Bar, Hogfish Bar & Grill (a bit more off-the-beaten-path), Hot Tin Roof, Rusty Anchor and Sloppy Joe's.
6. Gay History
"Key West was the original gay destination in North America," Steve Smith, former president of the Key West Business Guild, once said. Like Provincetown, Key West has become synonymous with gay history in America. It was one of the first cities to elect an openly gay mayor (Richard A. Heyman) and has seen its fair share of gay history unfold in its streets. Fleming Street, for example, was formerly dubbed "gay guest house row." Over at the Hog's Breath Saloon you can visit the site of the now-defunct but once-famous club The Monster, an icon of gay life in the 70s and 80s. Key West also has a strong Gay and Lesbian Business Guild that champions the city's LGBT roots. (It also happens to be one of the first LGBT chambers of commerce in America.) Check out their visitor center for more on Key West's gay past.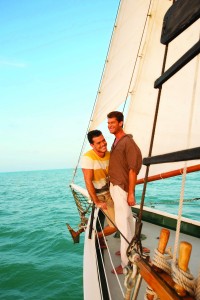 5. Water Activities
If you like to go out on the water and soak up some natural wonder, Key West, like Provincetown, has plenty to keep you occupied. To start, there's blu Q's "gay sailing adventures", an all-gay sailing charter company that offers clothing optional sailing tours, snorkeling trips, sunset viewing, sandbar excursions, and kayaking. Meanwhile, FURY Water Adventures is the place to go for jet-ski and speed boat rentals. The company also offers parasailing services and glass bottom boat tours.

4. Gay Resorts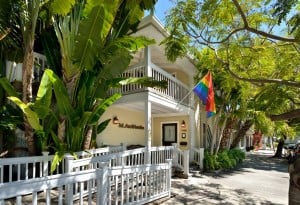 Both Ptown and Key West are bastions of that last great hallmark of the gay getaway: the gay resort. While up north there's The Crown & Anchor, down in the keys there's at least three popular gay resorts worthy of consideration. The Island House may be the most famous name on the list. Known as the "gay country club", The Island House acts as HQ for gay locals and visitors alike. The guesthouse boasts a swimming pool, two hot tubs, a gym, a restaurant, gay adult movies around the clock on in-room TVs, plus a "dark room" for those seeking a more bathhouse feel. Alexander's Guesthouse is LGBT only and provides a little more focus on elegance and R&R. Think gay bed and breakfast with a contemporary touch. The great concierge service here makes planning outings easy. Equator Resort, like The Island House, is clothing optional and also serves up a great complimentary happy hour nightly. There's a pool and hot-tub of course and this guesthouse keeps you close to the action on Duvall Street. It's decidedly casual but still has plenty to justify the title of resort.
3. Drag Life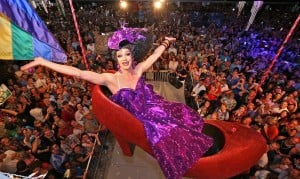 Drag is a way of life in Key West just as it is in Provincetown. Take for instance the fact that Key West celebrates New Year's by dropping a big red shoe (ruby slipper might be more accurate) in lieu of a Waterford glass ball in which Key West's grand dame, Gary "Sushi" Marion, descends at the stroke of midnight. And each year is a performance unto itself. "I try to make it really elaborate, one of a kind, something you haven't seen before," Sushi told CNN of the work that goes into her costume which audiences glimpse for the first time when she takes her spot in that shoe. There's plenty of other ferocious queens working it in Key West including INGA who can be seen at AQUA, newcomer Jessica Grabbit over at Bourbon Street Pub, and Randy Roberts of America's Got Talent fame at La Te Da.
2. The Tea Dance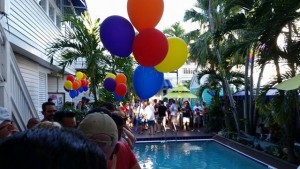 While Provincetown has the Tea Dance at the Boatslip, Key West turns up the afternoon at La Te Da. For those who have never experienced a Tea Dance, it's a must. This weekly event on Sundays (from 4 – 7 PM) at La Te Da is a tradition that encourages you to dress up, dress down or come as you are for some great poolside music and dancing. La Te Da's restaurant opens up after the dance ends so you can grab some much needed sustenance and rest after burning off all the canned heat in your heels.
1. Big Gay Attractions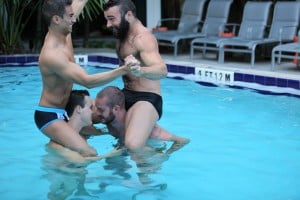 Let's face it, if you're going to travel, it's fun to travel for a specific event. And while Ptown has Bear Week, Key West has the Tropical Heat Festival. The most popular weekend of the year in Key West, Tropical Heat consumes the island for four days in August. Expect a range of parties to satisfy a variety of appetites. Fetish balls, skinny dipping, foam parties, and daily boat cruises are all on the menu each year. Locals and visitors alike pack each event, making this weekend the perfect time to meet someone new.
*Clothing Optional Life*
Key West has one tradition that it owns–clothing optional living. For locals and visitors alike, Key West affords the opportunity to let loose and throw caution (not to mention your trunks) to the wind. Two of the resorts we mentioned here (The Island House and the Equator Resort) are clothing optional, and upon visiting either you'll catch plenty of patrons availing themselves of the chance to drop trou. Plus there's clothing optional water sports courtesy of blu Q, nude pool parties hosted by Tropical Heat and also a nude gay beach at Boca Chica Key. So if you love to vacation in your birthday suit–or have always wanted to–Key West awaits.