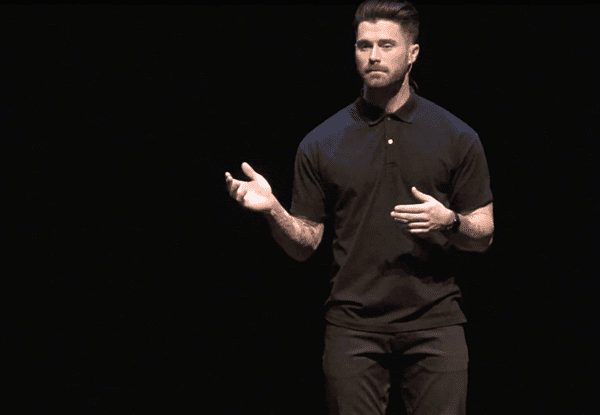 Hair-stylist and social media star Kyle Krieger recently gave a moving TEDx Talk in which he tackles his struggle with addiction and the loneliness he felt growing up gay.
Krieger opens his talk with an emotional and moving story about partying in Miami and witnessing one of the young boys he was with nearly overdose. How had he gotten here, he wondered. He came from a good family and yet he always felt like he "never measured up." Of his father, Krieger says that his being gay was hard for him. "I probably wasn't really the son he envisioned," he adds.
At a young age, Krieger contemplated suicide. But it was as a teenager, after he had his first drink, that he finally felt relief from the isolation and pain that plagued him. "I needed a drink! I needed a drink when I was 2!" he jokes. Of drinking for the first time, Krieger says, "As the liquor filled me up, I didn't feel empty anymore…I wanted to feel that way for the rest of my life…I drank to feel better."
Yet increasingly, alcohol and drugs took control of his life. "I put myself in situations where I was raped because I just wanted to get high," he recalls. The need to use was fueled by a painful discomfort of being himself. "It was so painful to be in my own skin," he adds. And yet, the more he used the more he needed to use again: "The more I drank the worse I felt and the more I needed drugs and alcohol."
Krieger ultimately reached out for help from a friend he had heard talk about a place she went to help her in her recovery. After attending his first meeting, Krieger says finally felt like he was home.
Of his life since becoming sober, Krieger says, "I think of my sobriety as a gift. I think of it as the greatest gift I've ever been given. And I hold onto it and I nurture it and I take care of it by giving it away and I give it away to people who need a second chance and a helping hand like I did. And working and connecting with others has filled up all the emptiness I felt as a child with an authentic sense of love and belonging. My favorite prt about being sober is that I'm present, that I'm present for every day. I'm present for every feeling in my body, all those feelings I pushed down in my body and all those feelings I pushed down for so long–whether painful or joyous–and it's not always easy, but just like everything in life we walk through it. Not around it, not under it, but through."
Watch, below.