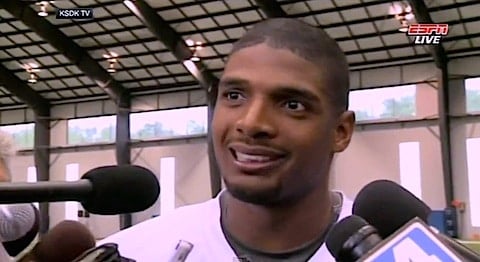 According to NFL journalist Howard Balzer, the Rams drafted Michael Sam in 2014 in a deal with the NFL to stay off the HBO show Hard Knocks. At the time, the NFL was looking to save face over criticism that homophobia was keeping Sam out of the league.
Hard Knocks follows an NFL team through training camp and preseason.
Sources say NFL agreed not to have Rams on Hard Knocks in 2014 if they drafted Michael Sam.

— Howard Balzer (@HBalzer721) March 23, 2016
Balzer, citing "sources," tweeted Wednesday that the Rams avoided the 2014 edition of "Hard Knocks" because of their decision to select Michael Sam, the first openly gay player to declare for the NFL draft, in the seventh round that year.
"Sources say NFL agreed not to have Rams on Hard Knocks in 2014 if they drafted Michael Sam," Balzer tweeted.
Balzer clarified the tweet several hours later, stressing that it was a predraft arrangement between the league and team to save face and insure that the first openly gay player to declare for the NFL draft did not go undrafted.
That's correct. Rams didn't want Hard Knocks even without Sam. League concerned he wouldn't be drafted. Deal made. https://t.co/LqzsYWEmfW

— Howard Balzer (@HBalzer721) March 23, 2016
Here's Balzer's full follow-up story at 590 The Fan.
Sam's response?
I'm not surprised at all https://t.co/wGnyFpuIVP

— Michael Sam (@MichaelSam52) March 23, 2016
Rams coach Jeff Fisher is denying the report, saying it's insulting to Sam:
"That in itself is absolutely absurd, it's 100 percent incorrect," Fisher said. "I was really taken aback by those comments. It's insulting, from my standpoint, as it relates to Michael. We had three seventh-round picks. When we drafted Michael he was the best player on the board. Who in their right mind would think that you give up a draft choice to avoid doing something like that?"
Fisher said he thinks Sam has been subjected to unfair scrutiny that most seventh-round picks fighting for a roster spot don't have to face.
"It's really unfair to Michael. Michael worked so hard," Fisher said. "It's really not fair to Michael because of all the hard work he put in."
The Rams are doing Hard Knocks this year as they move to Los Angeles. And embracing it.
Balzer suggests it's because there's no unwanted to-do over a gay player:
In fact, in 2014, about two weeks after the draft and the selection of Sam, Fisher was asked about the possibility of the league picking the Rams for the TV show. If no team volunteers to be a part of HARD KNOCKS, the league can pick a team that hasn't been on the show for 10 years, or doesn't have a new head coach, or hasn't made the playoffs for two years. The Rams qualified on all counts.
Fisher said, "We are eligible, but I think it's highly unlikely they'd ask us to do it. I think this organization has a right to go through training camp with some normalcy."
Of course, that "normalcy" included a record number of press conferences for a seventh-round draft pick, plus having an ESPN report late in training camp in which teammates were asked about their shower habits and those of Sam. By a woman reporter, Josina Anderson.
And, as if there will be any "normalcy" this offseason, training camp and regular season. In a press release announcing the decision, Fisher said, "This is an exciting time for our franchise. HARD KNOCKS will be an outstanding way to bring our fans into our training camp and preseason, and give a glimpse of the hard work and dedication of our players, coaches and staff as we prepare for the 2016 season."
Of course, none of those players will be Sam, who was waived in the cutdown to 53 players in 2014, was briefly on the Dallas Cowboys' practice squad that season, and then left the Montreal Alouettes of the Canadian Football League in the summer of 2015 without playing in a game.
Eric Edholm at Yahoo Sports adds:
There's little doubt that the league was bracing, as Sam slid late into Day 3 of the 2014 draft, for the possibility that he'd go undrafted. As LGBT groups followed the Sam story closely, the feeling was that if Sam, the 2013 co-SEC Defensive Player of the Year, went undrafted it would reflect negatively on the league as if it was harboring homophobic tendencies in the way it picked its players.
And certainly it's possible that league officials who were trying to get ahead of the story made a few calls to teams who owned seventh-round picks, asking if they had any plan to select Sam. The Rams, owners of four seventh-rounders, certainly had to be on the NFL's short list of calls to make, although the Cowboys also owned four, which is interesting to note.
Is it possible that the Rams told the NFL that, yes, they were interested but that they were afraid of the media crush that would follow? That seems plausible. It's possible that the NFL then said they could waive the Rams' "Hard Knocks" duty that season if they took Sam (not the other way around), and if that's the case, is it the most malicious thing?
No, but it's not the best look, either.