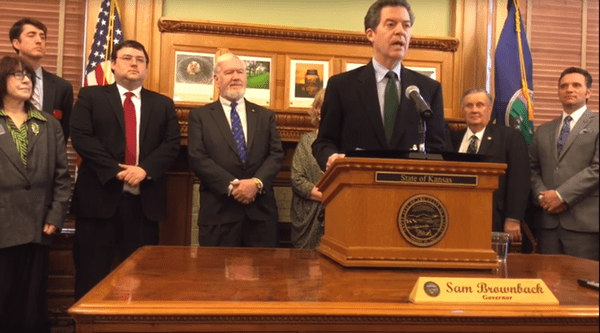 Kansas Governor Sam Brownback signed into law an anti-gay "religious liberty" bill on Wednesday that is tantamount to a legislative attack on LGBT college students.
The Washington Blade reports on the specifics of the bill:
The legislation, SB 175, would prohibit postsecondary schools from taking adverse action against religious student associations, such as denying them meeting places or official recognition, if these associations reject members who don't "adhere to the association's sincerely held religious beliefs." Critics say the measure would enable these associations to refuse membership to LGBT students at taxpayer-funded public institutions.
In a press event touting his support for the bill, Brownback fought back against the assertion that the bill is discriminatory, saying, "that is inaccurate":
"Religious liberty is part of the essence of who we are as a nation and as a state. At our founding, people coming to the United States came here seeking religious liberty. I'm pleased to sign SB 175 today, the Campus Religious Freedom Bill, ensuring that college students can also enjoy this bedrock American principle."
"This is a very good narrow, targeted piece of legislation that will serve the betterment of college campuses in the state,"
The Human Rights campaign has blasted the bill and Brownback.
"Gov. Brownback's shameful decision to sign this measure into law puts tens of thousands of college students who attend school in Kansas at risk of blatant discrimination," said HRC President Chad Griffin. "History has never looked kindly on leaders who promote bigotry and hatred, and Gov. Brownback has recklessly abandoned his responsibility to ensure all students are treated with dignity and respect. This is a dark day for Kansas, and we must find a path to eventually seeing that this deplorable law is ripped out and thrown away."
The new law jeopardizes non-discrimination policies that have already been put into place by many of Kansas' educational institutions, including the Kansas Board of Regents and the University of Kansas. These policies require that student organizations which receive financial and other support from the school do not discriminate against students based on race, sex, religion, sexual orientation, or gender identity. They are incredibly important because they allow all members of the student body to participate in student groups and prevent such groups from discriminating against students with state funding. SB 175 blows a hole right through them – and allows discrimination against any of these groups if one cites a "religious belief" as a justification.
Watch video of Brownback's event, below.