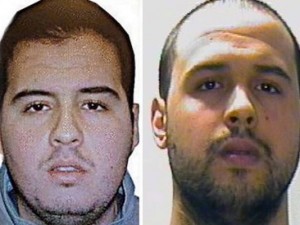 BRUSSELS. Authorities have identified one of the suicide bombers in Tuesday's attack as being the bomb-maker from the November 2015 Paris Terror Attacks: "The disclosure is the first evidence linking the deadly rampage in Paris that killed 130 in November to Tuesday's attacks in Brussels that left more than 30 dead. Earlier Wednesday, prosecutor Frederic Van Leeuw said Ibrahim El Bakraoui, 29, was the other airport suicide bomber and his brother, Khalid, 27, was the subway suicide bomber who detonated his device an hour later at a downtown metro station. Turkish President Recep Tayyip Erdoğan said Turkey deported Ibrahim last year because it suspected him of being a militant. He was deported to the Netherlands at his request after his native Belgium failed to establish a connection to terrorism, Erdoğan said. Both nations were notified, he added."
SCOTUS. Supreme Court could likely tie in ruling on contraception and "religious freedom": "Wednesday's case grew out of a regulation requiring many employers to provide the coverage for contraception under the Affordable Care Act. Religious institutions like schools and churches have said that forcing them to comply with that violates the religious freedom law. They also objected to an alternative offered by the government that would allow them to opt out of the requirement by completing a form."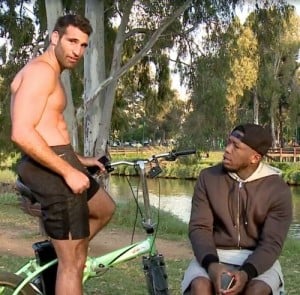 BRO. Douchey "Gaston of Israel" challenges former NBA player Nate Robinson to a 1-on-1 match while Robinson is in the middle of an interview.
BAIT. With all these paparazzi pictures of Zac Efron and The Rock from the set of The Baywatch movie, will there be anything in the movie anyone hasn't seen?
GOP. Paul Ryan suggests he has 'evolved' on some social issues (no, not those ones): "There was a time when I would talk about a difference between 'makers' and 'takers' in our country, referring to people who accepted government benefits. But as I spent more time listening, and really learning the root causes of poverty, I realized I was wrong."
COMING ATTRACTIONS. Ryan Gosling and Russell Crowe mug in new trailer for The Nice Guys.
ABROAD. Prince Harry celebrates Holi, the Hindu festival of color, while in Nepal.
ISLAMOPHOBIA. President Obama blasts Ted Cruz and his call to police Muslim neighborhoods: "As far as the notion of having surveillance of neighborhoods where Muslims are present, I just left a country that engages in that kind of neighborhood surveillance. Which by the way, the father of Senator Cruz escaped – for America. The land of the free."
SPACE. NASA's Kepler space telescope captures what a star looks like when it explodes: "The star, located 1.2 billion lightyears away and measuring about 500 time the size of our sun, had a shock breakout of only 20 minutes. So it's lucky that the event was recorded by Kepler, which captured light every 30 minutes, NASA says."
CRIME. Individual whom former GOP Speaker of the House Dennis Hastert allegedly sexually abused could testify at his sentencing hearing. Hastert was indicted by federal prosecutors a in hush money case surrounding Hastert's attempt to cover up his alleged molestation of young men: "The transcript, provided Wednesday to the AP by the presiding judge's court reporter, recounts an unannounced hearing held earlier this week in which prosecutors, the defense and the judge discuss "Individual D." Prosecutors inform the judge that they recently learned "Individual D" is an alleged victim and that he is deciding whether to testify at the April 27th sentencing. Assistant U.S. Attorney Steven Block told Judge Thomas M. Durkin that "Individual D" is leaning toward testifying."
COME THE F*CK ON, BRIDGET. Renee Zellweger is back as the iconically hapless Brit in Bridget Jones' Baby.
COLOMBIA. Marriage equality likely to be approved within the next week according to local reports. 
MR. GAY WORLD. The competition gets its first Muslim entrant, 22-year-old Bijat Abdellah, who hopes to be Mr. Gay Belgium. Says Abdellah: "In the Qu'ran it says that we should be tolerant and open,' he says. 'That means respecting others, no matter what their preferences are."
https://instagram.com/p/BCV1O0_AzRY/
https://instagram.com/p/BCDYWxNgze5/?taken-by=abdel_bijat
---
DEAL OF THE DAY. Online deals we think might appeal to Towleroad readers…
All you early adopters will be excited about the deal Amazon has today on the ROBO 3D R1 Plus Fully Assembled 3D Printer.
Maybe a bit out of reach at its usual price of $899, the Gold Box deal today has it priced at just $619.99.
A great deal for those of you who have been wanting to check out this new technology for the first time.
And…
Also on sale is a special 2-pack of Philips Sonicare HX6772/74 Healthy White Rechargeable Toothbrushes for just $109.99.
This is great for you couples out there who want to upgrade your dental hygiene. I actually use one of these and won't go without it.
They're really easy to travel with as well, and mine lasts a solid 10 days to two weeks on a charge.
Disclosure: If you buy something through hyperlinks to supporting retailers, we may get a small commission on the sale. Thanks for your ongoing support of Towleroad and independent publishing.