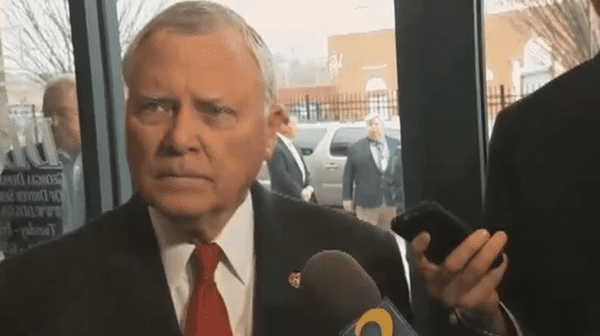 Yesterday afternoon the NFL sent out a statement opposing the heinous, anti-gay "religious freedom" bill passed by the Georgia legislature this week. The bill is now in Governor Nathan Deal's (above) hands.
Under the terms of HB 757, as we reported earlier in the week, faith-based organizations — churches, religious schools, or associations — don't have to rent facilities for "objectionable" events like marriages between gay people. Neither do they have to provide services, educational, charitable, social, or otherwise, which "violate such faith-based organization's sincerely held religious belief." They don't have to hire anyone whose "religious beliefs or practices or lack of either are not in accord with the faith-based organization's sincerely held religious belief" and can fire them for the same reasons.
The NFL warned that the Super Bowl could be in jeopardy.
Said the statement from league spokesman Brian McCarthy:
"NFL policies emphasize tolerance and inclusiveness, and prohibit discrimination based on age, gender, race, religion, sexual orientation, or any other improper standard. Whether the laws and regulations of a state and local community are consistent with these policies would be one of many factors NFL owners may use to evaluate potential Super Bowl host sites."
Atlanta Falcon's owner Arthur Blank, who hopes that a new stadium planned for 2017 would host a Super Bowl, released a statement late yesterday opposing the legislation as well:
"I strongly believe a diverse, inclusive and welcoming Georgia is critical to our citizens and the millions of visitors coming to enjoy all that our great state has to offer… House Bill 757 undermines these principles and would have long-lasting negative impact on our state and the people of Georgia."
Salesforce has also threatened to take its business out of Georgia:
One again Georgia is trying to pass laws that make it legal to discriminate. When will this insanity end? https://t.co/4jBrNJtCz8

— Marc Benioff (@Benioff) March 17, 2016
Should Salesforce move https://t.co/rlf9D7UkcF if @JoshMcKoon's anti gay bill 757 passes the Georgia legislator?

— Marc Benioff (@Benioff) February 26, 2016
Said the company in a statement:
If HB 757 is not vetoed and instead becomes law, Salesforce will have to reduce investments in Georgia, including moving the Salesforce Connections conference to a state that provides a more welcoming environment for the LGBTQ community.
Watch a WSB report on the growing opposition from business owners to the bill: