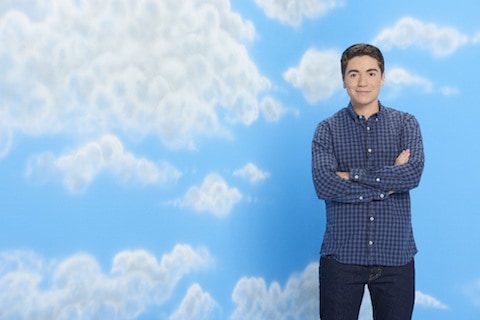 Five episodes in and ABC's The Real O'Neals has become required viewing. The charming sitcom about a Chicago-based Irish Catholic family fits neatly within ABC's current crop of sitcoms, a Trojan horse containing one of the most subversive shows on TV.
The Real O'Neals has successfully found a way of boldly telling the story of a gay teen growing up and coming out while sticking to the sitcom conventions you'd find on mainstream crowd pleasers. It sounds simple, but the impact can't be overstated.
Take last week's episode, "The Real Spring Fever." Young Kenny (Noah Galvin) tried to navigate the gay community's complex zoological taxonomy (bears, otters, cubs, oh my!), but it wasn't the definition of twink that felt particularly revelatory on primetime TV.
It wasn't even how Kenny's older brother leapt at the chance to help Kenny discover his "type" by assisting his search for gay porn. It was the simple sight of Kenny witnessing his straight peers dating and feeling lonely. Sure, he might have overloaded the family computer in what they described as a "pornado," but at the end of the day, all he wanted was a cute boy to smile at him. It's not the typical bullying or coming out story we're used to. It's just a powerful, humanizing truth to share. It's a tiny slice of the queer experience often left untold.
It's not easy to delicately tell such an effective story while still being, you know, funny. Luckily, The Real O'Neals remains a clever comedy anchored in family dynamics without indulging in too much schmaltz. The show's success is partially fueled by the source material, loosely inspired by writer and professional provocateur Dan Savage, but a good chunk of what makes the series so good is in its incredible cast. The whole ensemble deserves kudos (particularly Martha Plimpton as the O'Neals' matriarch), but the heart of the show is Galvin's Kenny.
We spoke with the young, openly-gay actor about working on the show, the reaction from fans and his comedy inspiration. See what he had to say below!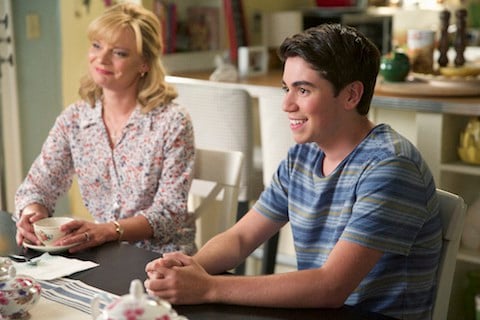 Who are the gay characters that resonated with you growing up?
I watched Will & Grace. I very much enjoyed that, but I never really looked to those characters as an outlet of any sort. I grew up in musical theatre, so I was surround by very solid, special gay men all around me, and they were the people I looked up to.
For folks who don't have that, what do you think Kenny offers to gay teens growing up today as a model?
The idea of normalcy is a through line in our show, and I'm hoping kids will see that Kenny is like any adolescent going through things like first dates and first kisses. I'm very excited, for kids who are really young, for this show to be a regular old sitcom for them.
What has surprised you most about the reactions the show has received so far?
The lack of hate, actually. Of course, there are organizations that want to nip us in the bud, but other than that I was expecting more backlash just from people on Twitter or on Facebook or whatever, and we haven't really had much of that, which has been really surprising and really cool and very validating.
What do you bring from your own experience to Kenny's journey?
What's cool is that my coming out experience is very, very different from Kenny's, so I'm not pulling a lot from how he's dealing with his coming out. I'm not really pulling out a lot from my own experience, because we had very different experiences. I can say that it's really cool to experience coming out through another person's eyes and another family's structure and another world.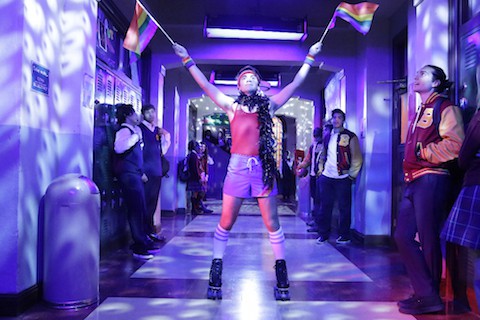 Even with such a different personal experience, what difference does it make having a gay actor in this role?
You can't replicate the gay experience. You can't replicate the coming out experience. It was important to me that someone who really does understand those things plays this role. It wasn't somebody putting on a voice or pretending. I wanted somebody who really did understand that experience through and through to play this role for the kids who will watch it and realize their sexuality or hoping this helps with their whole situation and dealing with their sexuality.
You had speculated older generations and younger generations might receive the show differently. How have you seen that play out?
We did this Q&A at the LGBTQ Center, a community center in NYC, and Tim Gunn moderated. It was me and Martha Plimpton and David Windsor, one of our show creators. We got to screen it in a room in front of mostly gay men and women over the age of like 45, I'd say. And their reaction was really, really interesting. While we were watching it, they were laughing, of course, it's a funny show, I think, but they weren't very vocal. When we started the talk back, they were just so effusive and loved it, and it was so surprising. It's very cool for an older generation who went through the hardships of gaining LGBTQ rights. It's very cool that they can now see the fruits of their labor.
You're very active on Twitter, too. You also get the perspective from the younger generation. What have been some standout comments from younger viewers?
The one comment I get the most is 'Thank you for Kenny.' He's a character that kids say thanks for being a character I can relate to, for having a character that gay kids can look to and be like 'Oh, I relate to that person, I relate to all their experiences.' There's a ton of that for straight kids, and I think the LGBTQ teen representation is few and far between. I'm glad this can be a source of support for some people.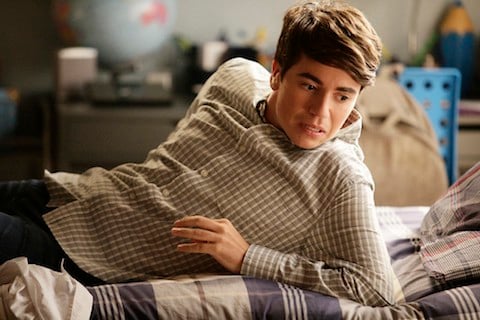 We've seen Kenny's coming out and first date, but what stories down the road are you really excited to tell for Kenny?
In our finale episode, Kenny has his first kiss with a boy. I'm excited for people to see that because it doesn't play out in the way that you think it will.
The show is loosely inspired by Dan Savage's upbringing. What was your familiarity with his work and what is your relationship with him like now?
He is a figurehead of the gay community, so of course I was familiar with him and some of his writing. Throughout the process he has been a support system for me. Even before the show aired, I was getting messages from kids asking for help or advice, and at first I didn't really know how much to extend myself and how much to get involved with these people. So I turned to Dan for help in these situations, and he was very helpful in guiding me. We texted throughout the process, and I'm still in touch with him. He's a wonderful man, and he'll always be a source of advice for me.
What else is on your DVR?
I just binge watched the first season of Fargo, which is wonderful. Parks and Rec, which is always something that I turn back to. Amy Poehler is a large inspiration for me. There are moments on set when I'll sort of be struggling with a joke or a line, and I just sit quietly and think to myself 'What would Amy Poehler do?'
Catch the next episode of The Real O'Neals tonight at 8:30 p.m. Eastern on ABC.