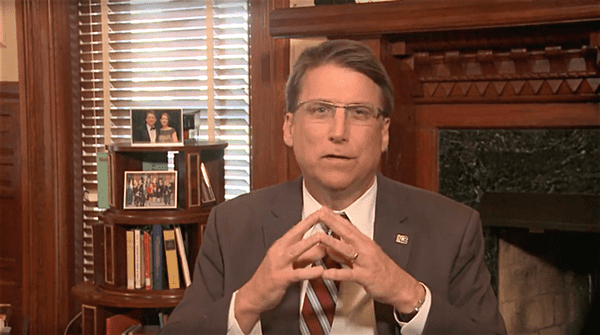 In a video released on Tuesday, North Carolina Governor Pat McCrory alleged that his state has been "the target of a vicious, nationwide smear campaign" since he signed an anti-LGBT bill into law last week.
That bill, HB 2, nullified all existing LGBT rights ordinances in the state and prevents any such ordinances from being passed in the future.
Condemning those who have spoken out against the bill, McCrory said, "they demonized our state for political gain."
McCrory added, "Some have called our state an embarrassment. Frankly the real embarrassment is politicians not publicly respecting each other's positions on complex issues…North Carolina has been the target of a vicious, nationwide, smear campaign. Disregarding the facts, other politicians from the White House to mayors and city council members, and yes, even our attorney general have initiated and promoted conflict to advance their political agenda even if it means defying the constitution and their oath of office."
That attorney general is Roy Cooper, who on Tuesday announced he would not defend HB 2 against a lawsuit from the ACLU. McCrory said Cooper is "wrong" and that "he cannot select which laws to defend." He added, "The attorney general is inventing conflict that simply does not exist…I want to encourage the attorney general to reconsider his flawed logic."
McCrory closed his video by insisting that the fight over HB 2 "is not about demonizing one group of people."
Cooper responded almost immediately to the video, as BuzzFeed's Dominic Holden notes.
https://twitter.com/dominicholden/status/714941412672999424
Watch the video, below. But if you're looking to leave a comment you will find that comments are disabled, as Twitter user Brooke Hefner pointed out. 
https://www.youtube.com/watch?v=H3dKWx0IVZ0&feature=youtu.be