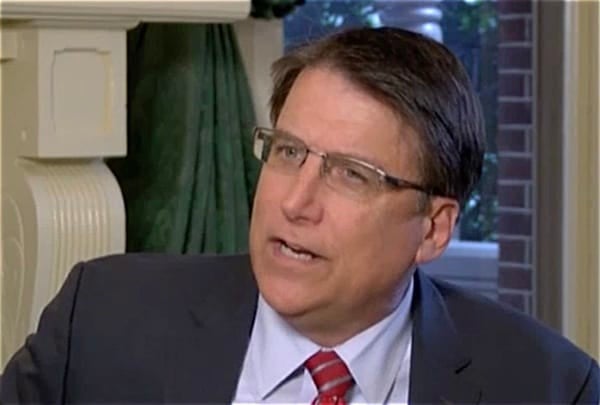 Human Rights Campaign (HRC) and Equality North Carolina (ENC) yesterday released a letter from more than eighty CEOs and business leaders urging Governor Pat McCrory (above) to repeal the state's new law overturning Charlotte's LGBT nondiscrimination ordinance and banning other cities from implementing similar ordinances. Lawmakers passed the legislation in a single-day special session last Wednesday.
The letter comes a day after Georgia Governor Nathan Deal announced he would veto ann anti-gay "religious freedom? bill following pressure from such companies as Dell, Hilton, PayPal and Microsoft.
The letter to McCrory is signed by executives including:
Tim Cook, CEO, Apple
Marc Benioff, CEO, Salesforce
Chip Bergh, President and CEO, Levi Strauss & Co.
Brian Chesky, CEO, Airbnb
Charles H. Hill III, EVP, Worldwide Human Resources, Pfizer Inc.
Drew Houston, CEO, Dropbox
Sundar Pichai, CEO, Google
Dan Schulman, President and CEO, PayPal
Bob & Harvey Weinstein, The Weinstein Company
Mark Zuckerberg, Founder and CEO, Facebook
Said Equality NC Executive Director Chris Sgro:
"North Carolina's place as a business leader in the South is based on fairness, inclusion, and diversity. HB2 does not represent North Carolina values, and it weakens our competitive edge. We are glad to see our business community in the Old North State standing up against discriminatory measures like this. Governor McCrory made a mess of our state last week, and our businesses are leading the charge to repair our state to a place of fairness."
The letter reads:
"We write with concerns about legislation you signed into law this week, House Bill 2, which has overturned protections for LGBT people and sanctioned discrimination across North Carolina. Put simply, HB 2 is not a bill that reflects the values of our companies, of our country, or even the overwhelming majority of North Carolinians.
"We are disappointed in your decision to sign this discriminatory legislation into law. The business community, by and large, has consistently communicated to lawmakers at every level that such laws are bad for our employees and bad for business. This is not a direction in which states move when they are seeking to provide successful, thriving hubs for business and economic development. We believe that HB 2 will make it far more challenging for businesses across the state to recruit and retain the nation's best and brightest workers and attract the most talented students from across the country. It will also diminish the state's draw as a destination for tourism, new businesses, and economic activity.
"Discrimination is wrong, and we believe it has no place in North Carolina or anywhere in our country. As companies that pride ourselves on being inclusive and welcoming to all, we strongly urge you and the leadership of North Carolina's legislature to repeal this law in the upcoming legislative session."
On Monday, we reported that the American Civil Liberties Union, ACLU of North Carolina, Lambda Legal, and Equality NC announced a federal lawsuit challenging North Carolina's HB2 law.
In a video released on Tuesday, North Carolina Governor Pat McCrory alleged that his state has been "the target of a vicious, nationwide smear campaign" by LGBT activists and those who have spoken out against the bill.
Watch a CBS report on the passing of HB2 below.