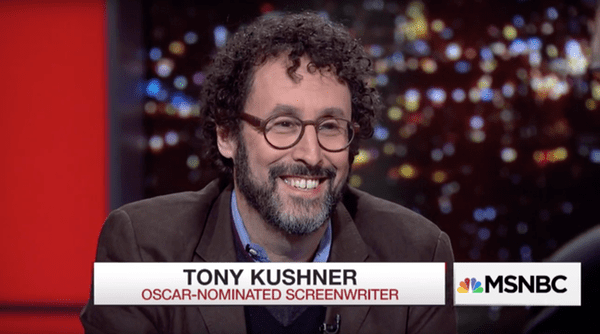 Tony Award-winning and Oscar-nominated scribe Tony Kushner sat down to talk with Chris Hayes last night about why he's supporting Hillary Clinton for president. Also on the agenda, the comments made by Susan Sarandon (a Bernie Sanders supporter) just the night before on Hayes' show implying that she might vote for Donald Trump over Hillary Clinton.
After accepting Hayes' description of him as an "avowed socialist", Kushner said of his support for Clinton,
"I think she would make an extraordinary candidate. Like Secretary Clinton I think that as you move through time you consider views that you had in the past and perhaps reconsider them and amend them…I believe in electoral democracy as a way of affecting progress and even radical change."
Things then turned to opposition to Clinton on the left and Sarandon's remarks.
Here's a recap of what Sarandon said the night before:
"I think a lot of people are 'sorry, I just can't bring myself to [vote Clinton]'…I don't know [what I'll do]. I'm going to see what happens. Some people feel that Donald Trump will bring the revolution immediately. If he gets in, then things will really explode. Some people feel that. If you feel it's pragmatic to shore up the status quo right now then you're not in touch with the status quo. The status quo's not working."
Said Kushner in response, "I don't understand why people with political views that I share aren't more excited about her. The 'I couldn't possibly vote for Hillary Clinton' thing from someone like Susan Sarandon who I respect enormously baffles me."
Since Monday night, Sarandon has said she would never vote for Trump.
LOL that I would ever vote Trump. https://t.co/pnENMgmbvm

— Susan Sarandon (@SusanSarandon) March 29, 2016
Asked if he would support Bernie if he is the Democratic nominee, Kushner replied,
"Of course! I don't know what's going to be nominated or who's going to be nominated on the other side of things, but it's terrifying. I don't think there's been anything this frightening coming from the Republicans in ever. And that's saying a lot."
Kushner closed by praising Clinton as "a more skillful politician [than Sanders] which i think is more important ultimately than fantasies about how moral or immoral a person might be" — a comment that Hayes suggested the Internet would have something to say about.
Watch, below: