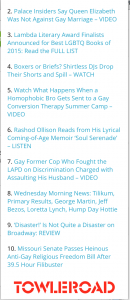 CHROME. Users of Google Chrome will definitely want to install our new Towleroad Chrome extension! You can easily check the latest headlines on Towleroad and search for content currently on the site.
RIP. Famed Beatles producer George Martin has died at 90.
GOP. Carly Fiorina endorses Ted Cruz: "Calling Cruz a 'real constitutional conservative,' she said 'he is a fearless fighter and reformer, and he didn't care much whether he got invited to the cocktail parties in Washington, D.C.' Fiorina said."
MOVIES. International trailer for Ghostbusters remake features a lot more Chris Hemsworth. 
INDIANA. Teen from Kokomo, Indiana eviscerates the transgender bathroom myth. Kokomo's city council recently passed an LGBT rights ordinance in a close 5-4 vote: "In regards to people saying that transgender people will be predators … I just want to know why you guys think we're going to be predators, seeing as how the bathroom is our worst nightmare? We go in there feeling as if we'll be attacked, and we know that people don't want us there. Why do you guys want us to be hurt more? It's not right for you to be denying us. I go to sports competitions. I go and change with the guys, because the girls would think that it was weird for a guy to be in there. Why would you want the girls to be freaked out by having a guy in the changing room?"
EYE CANDY. Zac Efron continues to show off his ridiculously-ripped body on the set of the Baywatch movie. 
WEST VIRGINIA. Lawmakers get sick from drinking raw milk…after they passed a law overturning a ban on raw milk.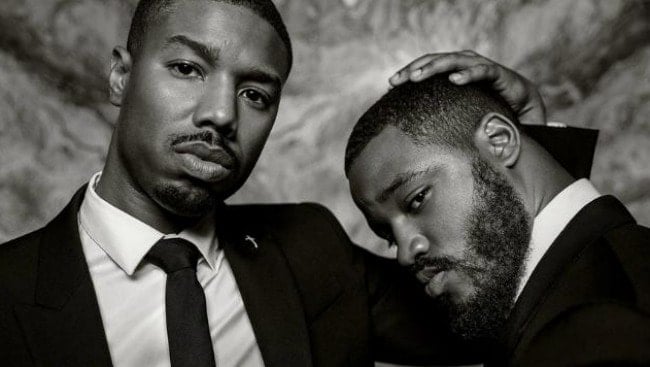 LOOK AT THE PICTURES. Vanity Fair shoot of Michael B. Jordan and director Ryan Coogler leads the Internet to conclude the pair must be gay: "All the picture shows is Michael B. Jordan placing his hand on top of Ryan Coogler's head. That's it. Seriously. They're not holding hands, looking passionately into each other's eyes or even holding each other close. But, somehow, this small embrace becomes the target of homophobia."
SCOTUS. Another candidate, this time Federal Appellate Judge Adalbert Jordan, has withdrawn his name from consideration to replace Antonin Scalia on the Supreme Court: "Jordan is the third potential candidate to ask the White House not to be considered for the open seat on the Supreme Court. Attorney General Loretta Lynch, who was rumored to be on Obama's list, said Tuesday she asked the White House to take her out of consideration for the open seat on the court. Nevada Gov. Brian Sandoval (R) took himself out of the running late last month after it was reported he was being vetted."
SHE SAID YES. Out celebrity fitness trainer Jillian Michaels is engaged.
RED HOT. Meet ginger gym fanatic Martin Robinson.
https://instagram.com/p/BAiQ8RYH_FY/?taken-by=robboglos
https://instagram.com/p/BCwCCUcn_JI/?taken-by=robboglos