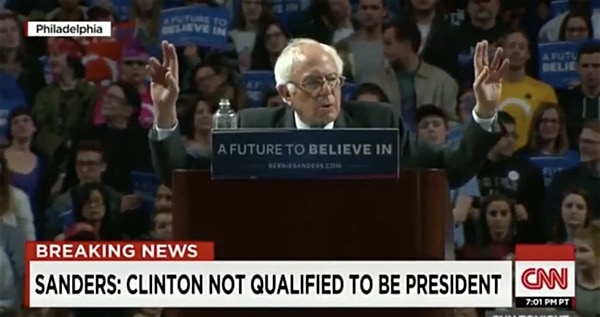 Bernie Sanders told a crowd in Philadelphia yesterday that Hillary Clinton is "not qualified" to be President of the United States, offering a list of reasons including her vote for the war in Iraq and her acceptance of money from Wall Street.
Earlier Wednesday, Clinton launched a fierce two-pronged attack on Sanders, questioning her persistent challenger's qualifications as a Democrat and for the presidency — although she stopped short of saying he was unqualified for the job.
Appearing at a rally at Temple University, Sanders told supporters that "Secretary Clinton appears to be getting a little bit nervous."
"She has been saying lately that she thinks I am quote-unquote not qualified to be president," Sanders said. "Let me just say in response to Secretary Clinton, I don't believe that she is qualified if she is through her super PAC taking tens of millions of dollars in special-interest money. I don't think you are qualified if you get $15 million through Wall Street for your super PAC."
Watch:
https://www.youtube.com/watch?v=dwSYhLwxBUk
Here's what Clinton said on Morning Joe Wednesday morning:
.@JoeNBC: Is Sanders qualified and ready to be President?… @HillaryClinton: He hadn't done his homework https://t.co/ZZWWko6hNy

— Morning Joe (@Morning_Joe) April 6, 2016
Said Clinton:
"The core of his campaign has been 'break up the banks. And it didn't seem, in reading his answers, that he understood exactly how that would work under Dodd-Frank, exactly who would be responsible, what the criteria were. And so that means you can't really help people, if you don't really know how to do what you are campaigning, to say that you want to do….I think he hadn't done his homework. And he'd been talking for more than a year about doing things that he obviously hadn't really studied or understood…I think that what he has been saying about the core issue in his whole campaign doesn't seem to be rooted in an understanding of either the law or the practical ways you get something done."
In recent surveys of likely New York Democratic primary voters, a CBS/YouGov Poll gave Clinton a lead of 10 percentage points, 53%-43%, and a Quinnipiac University poll a lead of 12 points, 54%-42%. Weaver noted that Sanders had been trailing in the campaign's internal polling in Wisconsin as recently as last week, and that he had been down 20 points 10 days before the Michigan primary, a contest he also won.
"Bernie Sanders closes very, very strong," Weaver said. He stopped short of predicting Sanders would win in New York, saying he "may win" but in any any case would "defy expectations" and "do very well."
Even so, Sanders faces a daunting climb for the nomination despite winning seven of the last eight contests. He has to win two-thirds of the remaining delegates to reach the 2,383 majority needed for nomination; Clinton has to win just one-third of them. "We do certainly have to win the vast majority of the states going forward, there's no doubt about that," Weaver says. "I mean, the math is what it is."