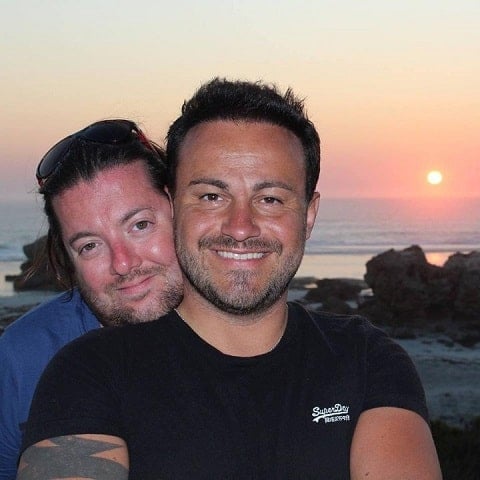 A British gay man was forced by staff at Hong Kong airport to hand over the ashes of his husband who had died days earlier on the couple's honeymoon.
If the photo above looks familiar, you may remember that in January, Marco Bulmer-Rizzi's (above right) husband David (above left) died in a tragic accident when he fell down a flight of stairs and cracked his skull. When Bulmer-Rizzi went to obtain a death certificate for David, he was told that the death certificate had to read "never married" because there was no option for same-sex spouses. The incident prompted British diplomats to take the unusual step of agreeing to issue a consular death registration for 32-year-old David.
According to Buzzfeed, Marco has since faced further heartache during a January stopover in Hong Kong when an airport official spotted the ashes in an X-ray scanner and questioned him before confiscating them.
Reports Buzzfeed:
"I was taken to one side and she said, 'What's in this box?'" he told BuzzFeed News. "She wanted to open the box. And I said, 'These are human remains. It's my husband. My husband died while we were in Australia. She just looked at me and said, 'I need to take this away.'" But before taking the container, the guard inquired again about the identity of the deceased.
"She said, 'Who did you say died?" And I said, 'My husband. And this is his passport.' And she said, 'No. I'm gonna take this [the ashes] away.'"
Marco said he went into a "meltdown" and made an attempt to prevent the ashes from being taken away.  He asked to see a supervisor who eventually let him retrieve the ashes and fly to Britain.
"I put my hand down [on the box] and said, 'No, you can't. I need to see your supervisor.'" The official's manager arrived to find Bulmer-Rizzi in a state of distress, trying to stop what was left of his husband from being taken from him.
"I felt like I was losing him again," he said, adding: "All I wanted was to be able to travel with David's ashes on me so he wouldn't have to travel back by himself."
Although it is legal to travel with human remains, Bulmer-Rizzi was aware that he lacked the paperwork confirming their relationship, so he pleaded with the more senior official to release the ashes back into his care.
"Again I was asked who the remains were and I said, 'My husband, David.' At that point I wanted the world to know that it was my husband. And she asked me, 'What do you mean "your husband"?'"
He later said that although he had his husband's passport and a note from a funeral home, he did not have official documentation from the British consulate. "The government could have simply issued me a letter saying I was David's next of kin,"he said.
The Foreign Office has since offered to meet Marco to discuss ways to prevent discrimination against LGBT people while travelling overseas.
In February, Mr Bulmer-Rizzi and a group of friends scattered David's ashes in his hometown in Sunderland.