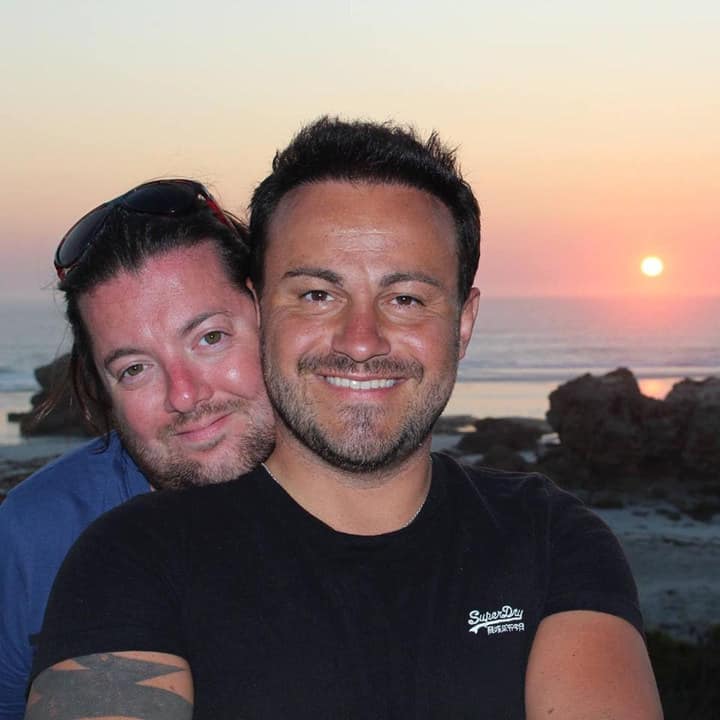 A tragic fatal honeymoon accident has exposed Australia's discriminatory marriage laws in a hurtful and humiliating way for a British man, whose husband died abruptly after falling and cracking his skull.
When Marco Bulmer-Rizzi (right) went to obtain a death certificate for his husband David Bulmer-Rizzi (left), he was told that the death certificate had to read "never married" because there was no option for same-sex spouses, according to Buzzfeed News. "It wasn't one of the drop-down options on the computer."
He also had no say in the next steps:
"Every single question I was asked – whether or not I wanted David cremated, whether or not I wanted David to have a service, or be washed, even the cost of the coffin they were to use – after I gave my answer, David's father was consulted," he said.
"[David's father] was also specifically asked, 'Do you want to look this over before it's signed?' It was outright discrimination. If I didn't get on with my in-laws I don't know that I would have any rights."
Premier Jay Weatherill promises legislation is coming that will correct everything:
@87cks @MarkDiStef legislation is being prepared to be out before the sa parliament this year

— Jay Weatherill (@JayWeatherill) January 19, 2016
Last year a Government report revealed hundreds of pieces of discriminatory legislation against gays, lesbians and women. Mr Weatherill said a bill to change those laws would be introduced to Parliament later this year.
"We introduced an initial Bill to the Parliament last year to begin the removal of discrimination from South Australian legislation," he said. "We will introduce a further raft of legislation to the Parliament this year that will grapple with the more complex issues such as this."
South Australian Senator Penny Wong called on Federal Parliament to legislate for marriage equality.
"This case is a tragic example of how Australia's marriage laws discriminate against gays and lesbians, causing needless pain, suffering and heartache," Ms Wong said. "It shows why Federal Parliament needs to legislate for marriage equality and bring Australia into line with countries like the United Kingdom. Our sympathies go out to Mr Bulmer-Rizzi at this difficult time."