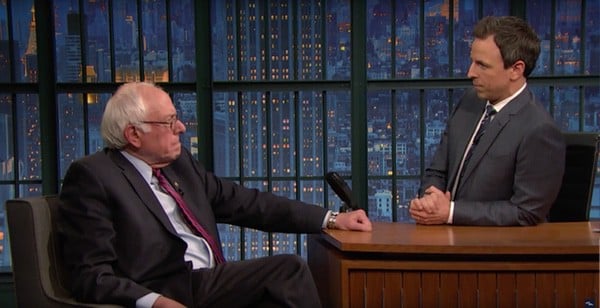 On Late Night with Seth Meyers, Meyers asked Bernie Sanders about his recent remarks that Hillary Clinton is "not qualified" to be President.
Asked Meyers: "Is that something you regret saying?"
Responded Sanders: "It was said after she and her campaign said that I was unqualified."
Meyers then corrected the record:
"I didn't hear her say you were unqualified. I heard her fail to say you were qualified. She didn't say unqualified."
Sanders replied that after his recent wins "I think the Clinton campaign has been getting a little bit nervous, and I think they have been getting more negative. And I hope very much we can have an issue-oriented campaign…but if people attack me and distort my record we will respond."
Watch:
The war of words between Clinton and Sanders prompted the White House to weigh in yesterday, defending Clinton's record, and qualifications. Here's the transcript of yesterday's press gaggle aboard Air Force One with White House Principal Deputy Press Secretary Eric Schultz:
Q    Can I ask you one other on something else?  Does President Obama think Hillary Clinton is qualified to be President?
MR. SCHULTZ:  The President has said that Secretary Clinton comes to this race with more experience than any other non-Vice President in recent campaign history.  The President was fortunate to have Secretary Clinton serve as his Secretary of State for four years, when they worked together on some of the world's most complicated and complex issues.  And he's proud of that service.
Q    And what does he make of Bernie Sanders saying that the same super PAC that supported President Obama in 2012 is supporting Hillary Clinton now is a disqualification for her being President?
MR. SCHULTZ:  I don't have a conversation with the President to read out to you on that.  I know that this is a heated campaign season, and campaigns are going to trade barbs back and forth.  And the good news for all of you is those campaigns have highly paid communication professionals who would be happy to answer your question.
Q    The President doesn't think that using a super PAC disqualified him from being President?
MR. SCHULTZ:  I haven't talked to the President about it.