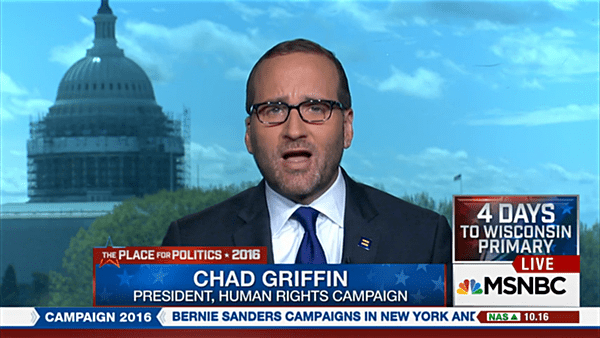 Human Rights Campaign President Chad Griffin spoke with Andrea Mitchell on Friday about the battle for LGBT rights in the American south.
Specifically addressing religious freedom bills in Mississippi (HB 1523) and North Carolina (HB 2), Griffin said such laws are intended to "roll back" LGBT civil rights:
"You have some of the right-wing hate-mongers in this country that are desperately looking for ways to roll back our progress, to roll back our rights. By the way, not so unlike the civil rights movements of the 50s and 60s, where we had governors and we had legislatures doing very similar things, attempting to disguise discrimination in the realm of religious freedom or religious liberty…and we've just seen this in Mississippi."
Mitchell commented that she sees "the big difference between now and…the 60s" being the support for LGBT rights from the business community.
Watch the interview, below.