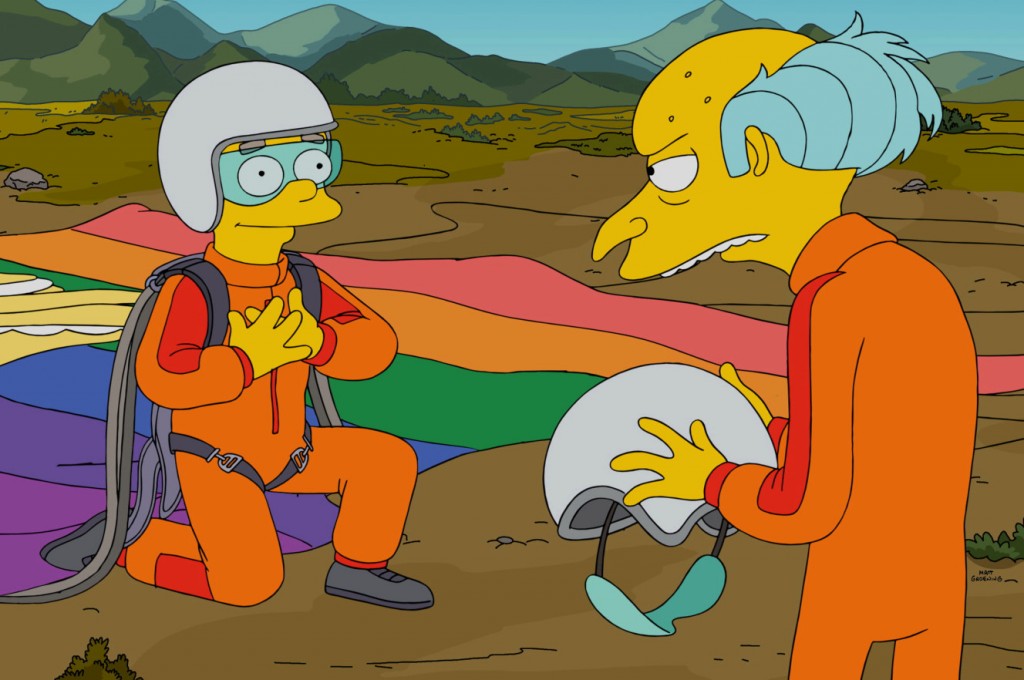 The writer from The Simpsons who came up with the coming out story for regular character Smithers says that the plot line was inspired by his own son's coming out.
Rob LaZebnik explains that the story was his way of telling his son that he loves him. 21-year-old Johnny LaZebnik said the gesture was sweet but that he didn't need much convincing of his father's love for him. Via The New York Post:
"I am a Midwestern guy, so I don't tend to wear my emotions on my sleeve, but I thought, 'What better way to tell my son I love him than to write a cartoon about it?' " says Rob. […]
"The revelation that my father loves me is not much of a revelation, thankfully. He's unbelievably accepting," says Johnny, a senior psychology major and film minor at Wesleyan University in Connecticut. "We're as close as a straight dad and a gay son could be."
Rob says he had the idea for Smithers coming out two or three years before he pitched it. He even showed an early version of the script to his son, who gave feedback and a thumbs-up. "I was really happy that someone who has experience with a gay person in their immediate family was writing the script," says Johnny.
The pair have had their share of charming antics as father and son, one of which involved Grindr:
"He once sent me an e-mail, and the header was just 'How does Grindr work?' " Johnny says of a time his father needed background on the gay-hookup app. "I screenshotted and Instagrammed it and sent it to all my gay friends because it made me laugh so much."
As for the impact the story can have, Rob says,
"Sometimes TV can have a real impact on people's thinking," he says, adding with a laugh, "and I certainly hope it will have an impact on my son's dating life — not that he needs help."
We didn't really want to have that big moment of 'I'm out,' you know?" he says. "Instead, just have it be a big embrace — like everyone knows it."
That's not far off from Johnny's own coming-out to his father and mother, Claire, in high school. "I was the gayest little kid, and my parents knew that,'" Johnny says. "I told them I was interested in a boy. My parents were, like, 'Yeah, we know.' "
Watch a clip from this week's episode in which Smithers comes out, below. In the video, Homer tries to set Smithers up with a bevy of men after he finally comes to terms with the fact that his unrequited love for Mr. Burns is, well, just that.