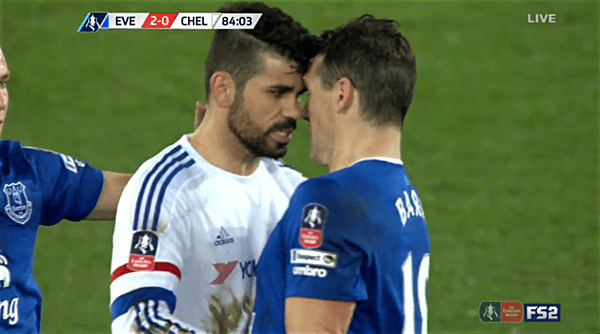 In bizarre and homoerotic sports news, a Spanish professional soccer player was ejected from a game last month for getting up close and personal with a player from an opposing team.
Diego Costa of Chelsea F.C. was given a red card by a referee after appearing to either kiss, bite, or nuzzle (or maybe all of the above) Gareth Barry of Everton in a match on March 12.
https://www.youtube.com/watch?v=e8uCl5pMcts
Truly, an awkward moment.

With a headline that read, "Did Diego Costa just bite Gareth Barry's neck like a vampire?", this is how SB Nation wrote about the incident: 
We are mystified at what Diego Costa is doing here. It looks a little bit like he's biting Gareth Barry, but it could simply be open mouth-to-neck contact with no teeth. Perhaps he blew a raspberry. Maybe this was a lick. We just don't know.
Costa got a red card, but not specifically for whatever this is. Barry got a red card moments later. This supports the idea that Costa is a vampire and turned Barry on the pitch.
Costa then denied that he bit Barry. Via The Guardian: 
Television replays suggest Costa made to bite his opponent, before thinking better of it at the last second.
The interim Chelsea manager, Guus Hiddink, said in his post-match media conference he would reserve judgment on the incident until he had the chance to see it for himself.
Chelsea later issued a statement maintaining the forward had not bitten Barry, but did regret his reaction.
Ultimately, the incident cost Costa £20,000 which he was fined by league officials. Costa was also temporarily suspended as a result.