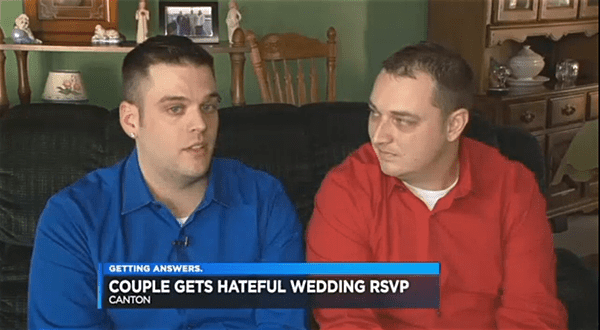 A gay couple from Canton, Ohio recently received a hateful and threatening RSVP to their wedding invite which they sent out only to family and friends.
Keith and Chad have less than 30 days to go before they tie the knot, and were taken aback when they received the letter that ominously warned, "You both are going to get what you deserve."
"So I opened it up, I saw it, I read it and I was like it's almost got to be a joke, it doesn't seem real," Keith said.
"You have sent an invitation to the wrong people," the letter reads.
"It's not normal for two men to marry. What is wrong with you, it's a sin!!!!"
The letter was typed and unsigned. The envelope had no return address on it.
The sender said invitations were forwarded to an anti-gay group which would protest at their wedding.
"I guess we thought we knew the people that were coming and we didn't know that well," Keith said.
Read the letter, here: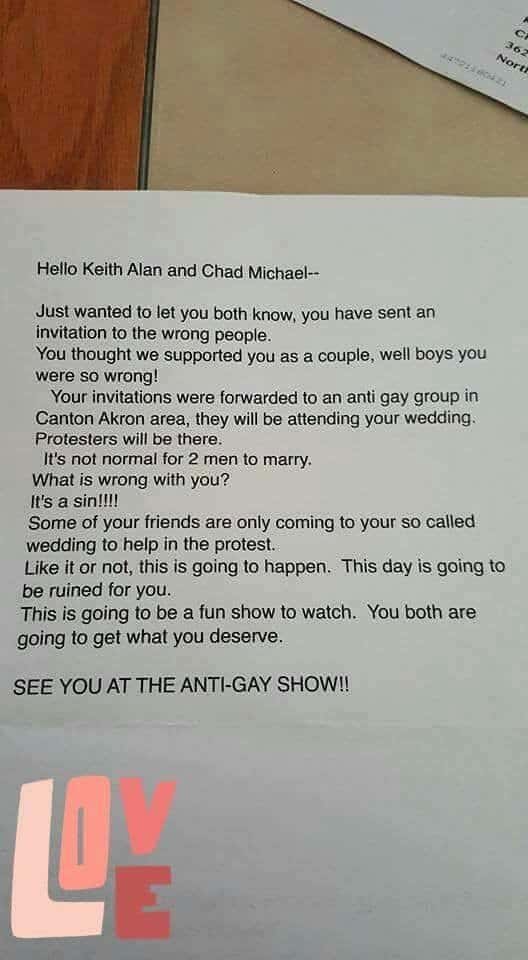 Keith and Chad are getting married in May. They met nine years ago and say this incident will absolutely not deter them from going forward with the big day.
"A happy occasion. It's something we waited a long time for, we honestly never thought we'd be able to do it," Chad said.
"Never even crossed my mind — I never even thought about canceling and quite frankly, other than our initial shock of the letter this made us both want to do it more," Keith said. […]
"This letter we received yesterday is more of a reason to move forward with it. Love will win in the end, that's what it comes down to," Chad said.
While the couple has tried to figure out who sent the letter, they have also received support from the community. New Vision United Church of Christ in Canton, which describes itself as an open and affirming congregation, will host a card shower for Chad and Keith.
If you would like to send Chad and Keith a card, you can send one to the address below:
New Vision United Church of Christ
3129 Market Ave North, Canton, Ohio 44714
Attn: Chad and Keith
Watch a local news report from WFDB, below: