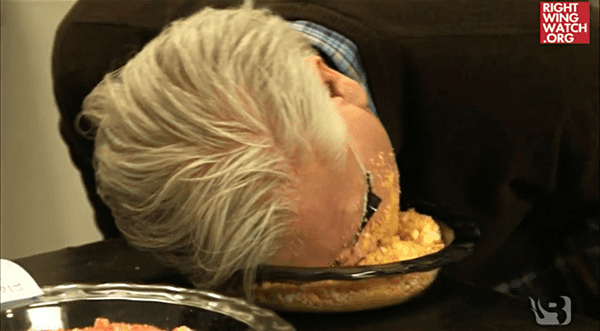 Glenn Beck decided to make fun of Donald Trump's orange complexion by conducting an experiment with some of his buddies.
"We thought if you wore the swim goggles and you stuck your face in crushed Cheetos that you would look just like Donald Trump in the end," Beck said.
So he and three colleagues each dunked their faces in bowls of (differently flavored) Cheeto particles to try and see which would most closely resemble Trump's skin tone.
On his radio program yesterday, Glenn Beck and his co-hosts mocked Republican presidential front-runner Donald Trump for looking like an "orange racoon" and wondered how he obtained his unnatural hue. In an attempt to figure it out, they planned an experiment for today in which they would smear crushed-up Cheetos on their faces "to see if we can get our face close to the face of Donald Trump."
Needless to say, the internet was concerned about Beck.
https://twitter.com/KT_thomps/status/726114328815013888
Watch the video, and marvel at the 2016-ness of it all, below.