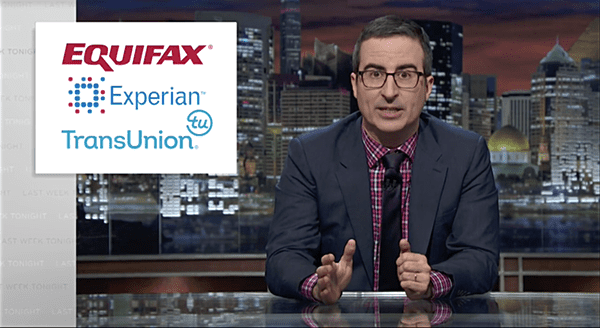 John Oliver took a searing look at credit reports on Sunday night's Last Week Tonight. While credit reports are often required to get apartments and jobs, Oliver explains that there's no research to suggest that credit reports are accurate predictors of how you might perform on the job or how you might behave as a tenant.
What's even more disturbing, is that approximately 1 in 4 of all of credit reports contain errors, and 1 in 20 contain significant errors. Oliver explains why that's not good as only Oliver can: "If every 20th Frosty that Wendy's sold turned out to be a cup of warm goat semen, we would want some accountability and we'd want it fast!"
According to Last Week Tonight's number crunching, the three major credit bureaus have been the subject of most of the complaints to the Consumer Financial Protection Bureau since the beginning of 2015. And in a settlement agreement last March, they pledged to improve their resolution process.
But it's more than just the big 3, as Oliver points out:
It would be bad enough if this just involved the three big credit bureaus but on top of that there are now hundreds of different companies providing even broader background checks which may bundle credit information with things like criminal or driving records. And while some companies appear to operate responsibly, others like General Information Services, or GIS, do things that make you doubt their judgment.
Oliver then points to an informational video the company made featuring an actor dressed up as Snow White. When a 'fairy' comes by to sprinkle magic dust (just go with it), the GIS spokesman says that the company is an equal opportunity employer. And Oliver isn't going to let that go:
Was that a homophobic fairy joke? Because it's hard enough to accept judgment from a company that would do that, let alone deliver it with the acting skill of a shy third grader.
To make matters worse, these background checks are also often rife with inaccuracies. The net result is that individuals who have inaccurate and damning information on their credit reports and background checks fight for years to remove the inaccurate data, often to no avail.
Watch, below.