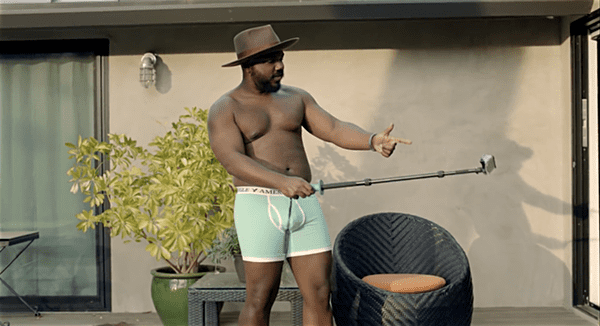 One of the models featured in American Eagle's faux 'body positive' campaign has revealed he was unaware that the ads were intended as an April Fool's joke.
As we previously reported, AE's #AerieMan campaign which wanted to celebrate the real you as being sexy, and used three 'real bodied' male models to encourage a body positive approach to men's underwear advertising, was revealed to be an elaborate and ill-conceived prank that used men with real bodies as a punchline. The ad was released more than a week before April Fool's Day on March 23.
Now, it turns out that the models American Eagle hired for its cruel joke were duped just like the rest of us.
Kelvin Davis, a blogger, spoke out about his participation in the campaign:
"I have had people in the body positivity community upset with me about this whole thing," he told BuzzFeed. "My part and contribution to the project was 100% authentic and real."
Davis contends that everything he said on the campaign video was "real and unscripted." "We were asked questions about male body image and those were our responses," he said. "Everything I said was heartfelt from a place we all can relate."
"I had nothing to do with the way it was marketed," he continued. "My stance and advocation for body positivity has never been a joke. What I represent is 100% authentic."
But he's not going to let it deter him too much. "I represented male body positivity before the #AerieMan campaign. I represent male body positivity after the #AerieMan campaign," he told BuzzFeed. "Simple as that."
Watch Kelvin's video that he made for American Eagle, below.