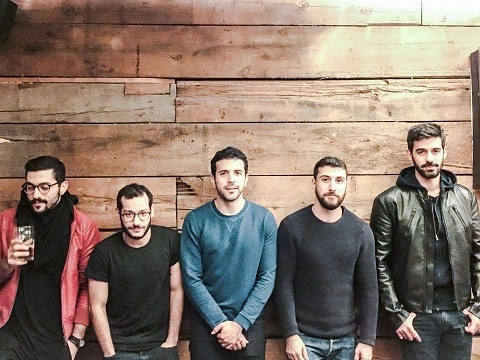 A Lebanese rock band has been banned from performing in Jordan because the lead singer is gay.
Mashrou' Leila, who have been described as "the soundtrack to the Arab spring," are known for lyrics covering such topics as homosexuality, gender equality, and political and religious freedom.
According to the Guardian, the band released a statement on Facebook informing fans that authorization for a performance in Amman tomorrow night has been withdrawn.
our official statement regarding the cancellation and ban of our upcoming show in Amman. please read and share. https://t.co/iyjpwBoikS

— Mashrou' Leila (@mashrou3leila) April 26, 2016
The statement reads:
"The written justification officially provided is that the performance would have been at odds with what the ministry of tourism viewed as the 'authenticity' of the site, despite the fact that we had the chance to perform for you at the same specific site three times in the past and had followed the same permit procedure before the competent authorities.
"Informally, the story is much more problematic. We have been unofficially informed that the reason behind this sudden change of heart..is the intervention of some authorities. Our understanding is that said authorities have pressured certain political figures and triggered a chain of events that ultimately ended with our authorisation being withdrawn.
"We also have been unofficially informed that we will never be allowed to play again anywhere in Jordan due to our political and religious beliefs, and endorsement of gender equality and sexual freedom.
"We denounce the systemic prosecution of voices of political dissent. We denounce the systemic prosecution of advocates of sexual and religious freedom. We denounce the censorship of artists anywhere in the world."
The band also praised Jordan for having some of the most "supportive, beautiful and kind people", saying it was the "only place where we get to perform for our Palestinian audience".
A few years ago I filmed @mashrou3leila rocking it in Amman.Now they're banned https://t.co/65AHXTrGwf https://t.co/czaMWyIgNJ #LeilaInAmman

— Yaara Bou Melhem (@YaaraBou) April 27, 2016
Mashrou' Leila' singer Hamed Sinno has actively fought for LGBT rights in the Middle East.
Fans expressed their disappointment at the cancellation on Twitter, using the hashtag #LeilaInAmman.
Watch the video for the track "3 Minutes" below.
(Image via Facebook)