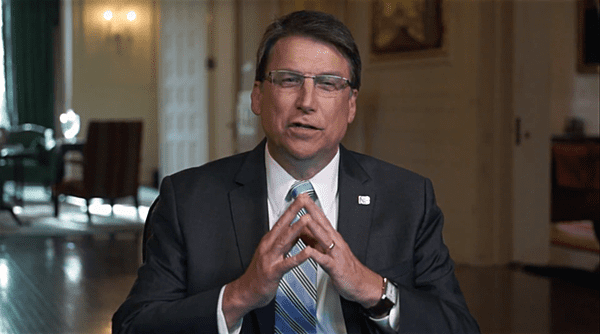 North Carolina Governor Pat McCrory is not only bigoted, he's also paranoid and delusional given this report from the New York Times:
This hornet's nest, he argued, was first kicked not by him, but by the Democratic City Council in Charlotte, which passed a nondiscrimination ordinance in February allowing transgender people to use men's or women's bathrooms. Before it passed, he said, he emailed the Council to warn it that if it changed "basic restroom and locker room norms," he would be forced to support a state law overriding them.
On Thursday, he said he suspected that the entire matter had been orchestrated by Democrats and the Human Rights Campaign, a national gay rights group, to give Democrats an advantage in a tight governor's race.
The backlash, he said, has allowed for no dialogue on "a very complex issue." Dissenters to the left-wing position, he said, were being intimidated. Mr. McCrory used the word "Orwellian" twice.
"You've got to be politically naïve if you think this is not coordinated by a very effective — a very effective — group," he said.
And McCrory is losing at the moment:
All winter McCrory was slightly ahead or tying with Democratic attorney general Roy Cooper in the polls, but since his signing of HB2 several weeks ago — and since the tremendous backlash across the country and around the world — Cooper now has a lead over McCrory by several percentage points in several polls. At the same time, a new poll shows that HB2 is deeply unpopular with the state's electorate, with only 36% of North Carolina voters supporting it.
But as we all know it's not the fault of the Human Rights Campaign but McCrory's Republican party, who convened a $42,000 special session to rush this overreaching discriminatory legislation through in March after all Democrats had left the chamber.