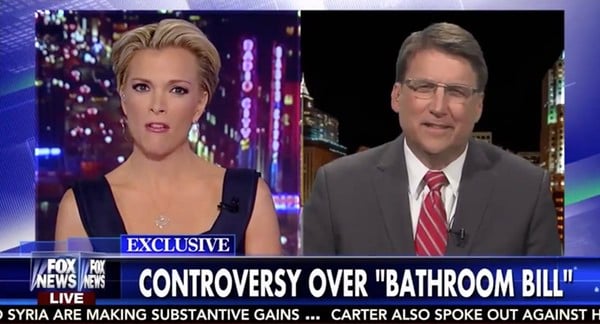 FOX News anchor Megyn Kelly might be the first major anchor to really grill North Carolina Governor Pat McCrory on the "bathroom" elements of his state's anti-LGBT HB 2 law. Whereas Chuck Todd allowed McCrory to succeed with his dodges, Kelly wants her questions answered.
"What was the fear that led to the enactment of this law?" Kelly asks.
McCrory trots out Charlotte's LGBT rights ordinance, and tells her that it overturned a local mandate on private business.
But Kelly wants to talk about the bathrooms: "Why? What was the concern – specifically, what was the evidence that caused you to believe this was a problem?"
She adds:
"I've been in women's bathrooms my whole life. We don't have the urinal situation. We got the stalls. We get to go in, we do our business, and like it's not – we don't see each other. So why are you concerned about young girls exposing themselves or seeing somebody else exposed in a women's bathroom?"
McCrory gets frustrated:
"I don't even know why we're talking about this. This is not an issue that I started. This is an issue the left started, not the right."
McCrory then tries to turn his answer to the Obama administration and funding, but Kelly won't have it, so she does a little 'transplaining':
"If you could get back to my question…the public restrooms…the question that many have is what is your fear because you know, there is a misconception that transgendered are somehow molesters and they're not. That's not true. Typically, male molesters are heterosexual and if they want to sneak into a bathroom they'll do it. But 90 percent of the cases molestation happens with someone you know. So what is the fear with the transgender situation and the bathrooms?"
Watch:
https://www.youtube.com/watch?v=0GAnCzEorOM