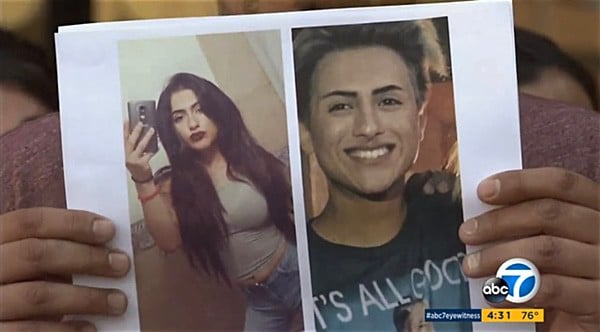 A transgender teen in Monterey Park, California is in serious but stable condition after being struck by a hit-and-run driver who did it intentionally, police say.
Reports ABC7 (who misgenders the victim):
Police said the crash happened in front of the popular Luminarias Restaurant shortly after 2:30 a.m. in the 3700 block of Ramona Boulevard Saturday. Police said the young man, who was dressed as a woman, was attending a party at the location when he was intentionally struck by the driver, who then fled the scene.
Said the nephew's uncle: "My nephew is only 16 years old, and he has his whole life ahead of him. I don't understand how somebody could just leave a human being on the side of the road and drive off."
The San Gabriel Valley Tribune adds:
Police initially listed the victim as male, but it appeared the person was a transgender female teenager, officials said. Investigators had not been able to speak with the still unidentified victim Saturday afternoon due to the severity of her injuries, Lt. Tina Montoya said.
Anyone with information on the crime is urged to call 1-800-222-TIPS.