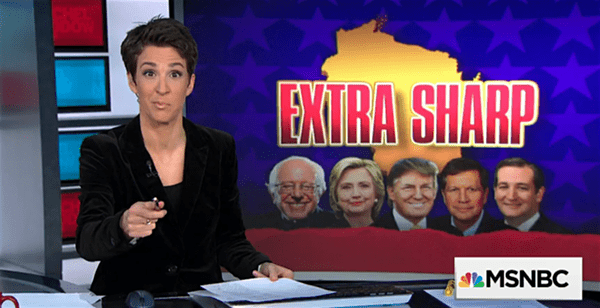 On Monday night, Rachel Maddow took a look at Wisconsin Supreme Court Justice Rebecca Bradley, who today is up for reelection in the Badger State.
As we've reported previously, while a student at Marquette University, Bradley wrote a series of bigoted op-eds that deployed disgusting rhetoric in talking about LGBT people.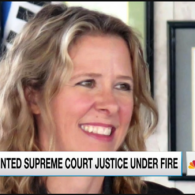 Maddow brought attention to Bradley's reelection bid last night as both Bernie Sanders and Hillary Clinton have called for voters to oust Bradley.
Said Clinton, "[There is] no place at all for Rebecca Bradley's decades-long track record of dangerous rhetoric against women, survivors of sexual assault, and the LGBT community. So tonight I'm adding my voice to the chorus across Wisconsin saying no to discrimination, no to hate speech, and no to Bradley."
Maddow also highlighted some of Bradley's most incendiary comments attacking the LGBT community. Bradley has called homosexuality an "abnormal sexual preference" and homosexuals themselves as "degenerates who basically commit suicide through their behavior." She also once wrote that "the homosexuals and drug addicts who do essentially kill themselves and others through their own behavior deservedly receive none of my sympathy." Then there's this famous line: "Heterosexual sex is very healthy in a loving martial relationship. Homosexual sex, however, kills."
Bradley also said that voters who supported Bill Clinton in his 1992 presidential bid "condone drug use, homosexuality, AIDS-producing sex, adultery and murder."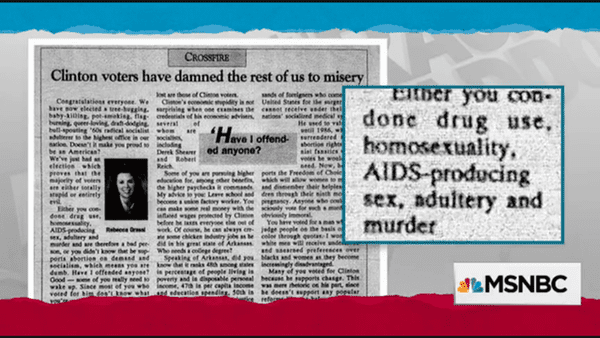 This is the woman Republican Governor Scott Walker put on the state Supreme Court.
Maddow's point in focusing on Bradley is not only to underscore her bigotry but also to look at the influence a national election can have on down ticket ballot races. Will Sanders or Clinton be able to affect the course of Bradley's reelection bid? We'll stay tuned tonight and find out.
Watch Maddow dig into Bradley's race (starting at about the 14 minute mark), below.