GOP. Trump's feud with RNC reaches new heights as he claims the system is rigged against him: "The problem is the Trump campaign has failed miserably to do the necessary follow-through at Republican conventions, where Ted Cruz's superior field operation has repeatedly filled delegate slates with its allies. On the first ballot, many of these delegates will be required to vote for Trump, but if the New York developer fails to reach a majority, many of those same delegates will quickly shift their allegiance. After the first ballot, Trump would likely to discover a Republican convention where he has few real friends."
RUSSIA. Stunning video shows Russian attack jets flying "dangerously close" to a U.S. Navy destroyer.
AFFLUENZA TEEN. Ethan Couch gets nearly two years' jail time for 2013 DUI that killed 4 people and injured 2 others: "District Judge Wayne Salvant said he'd give the defense two weeks to make an argument against the order. 'Nothing is set in stone, so I might reconsider,' he said at a court hearing in the case in Tarrant County, Texas."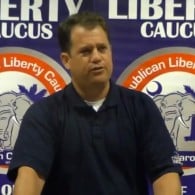 SOUTH CAROLINA. State Senate to hold hearing on transgender "bathroom bill": "People are expected to pack a Senate hearing on the bill, though the subcommittee is unlikely to take any vote. Its chairman, Sen. Lee Bright [right], introduced the measure last week, saying he supports a North Carolina law that has led to companies ending expansion plans in the state and conventions going elsewhere. Bright, who faces three GOP challengers in June, said he's had enough of tolerance if that means 'men who claim to be women' going into a bathroom with children."
THE JOKER. Jared Leto gave used condoms and anal beads to Suicide Squad castmates.
LATE NIGHT. Anna Wintour talks about the time she got lost underneath Madison Square Garden after a Kanye West show.
REAL ESTATE. Katy Perry wins victory in bid to buy nuns' convent in Los Angeles: "The Los Angeles Archdiocese, however, has fought to stop the sale, contending that the church has jurisdiction and that the nuns' sale was unauthorized."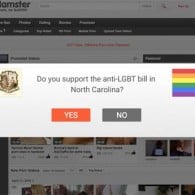 NORTH CAROLINA. XHamster will allow North Carolinians to have access to adult films so long as they don't support the anti-LGBT law, HB 2.
WH CORRESPONDENTS' DINNER. Trump won't be going: "I was asked by every single group of media available to mankind [to attend this year]. But I've decided not to go. Do you know why? I would have a good time and the press would say I look like I wasn't having a good time."
MOVIES. Elizabeth Banks will direct a Charlie's Angels reboot. 
HUMP DAY HOTTIE. Australian fitness enthusiast RJ Calma-Mina.
https://instagram.com/p/BECiqFbJXFQ/
https://instagram.com/p/BD7Pi6MJXCV/?taken-by=rj.physique