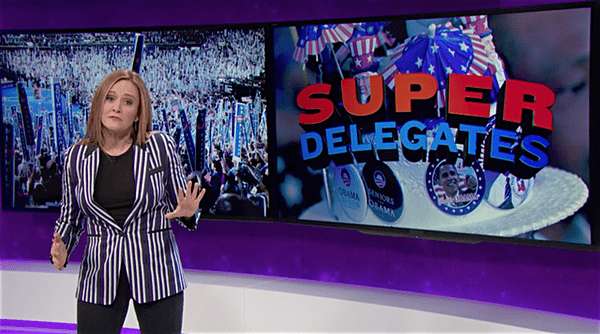 This week, Samantha Bee took a look at the escalating fight between Bernie Sanders and Hillary Clinton.
While there has been a lot of talk about super delegates rigging the race for Hillary Clinton (they overwhelmingly favor her over Sanders), Bee attempted to cool the jets of Sanders supporters who think super delegates are out to get them.
Said Bee, "If Bernie gets more votes than Hillary, her superdelegates will drop her faster than she drops her fake Southern accent the second she leaves South Carolina." After all, that's what happened to Hillary in 2008.
So why are there super delegates in the Democratic Party in the first place? "Think of them as the driving instructor, with her foot hovering over the brake," Bee explained. "She'll only use her power if the party is about to do a 'Thelma & Louise.'"
Bee also said that super delegates "have never tried to overrule the will of the voters. Not because they care about us—they don't—but because pissing off the voters is bad for their party, remember?" Bee was referring to the 1968 Democratic national convention when party officials overruled the choice of primary voters, Eugene McCarthy.
According to Bee, super delegates do not exist to stop someone like Sanders from getting the nomination, but rather to stop someone like Trump from getting it.
"Believe me Republicans would give their left nut for super delegates right now," she said.
Watch, below.