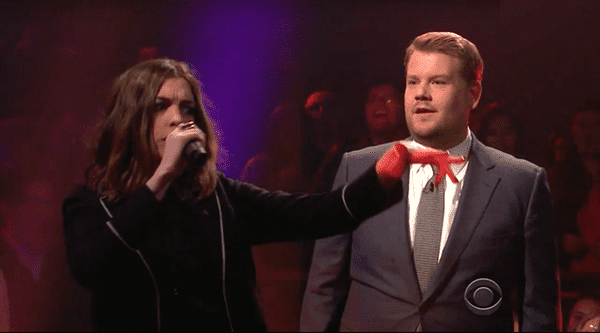 Anne Hathaway and James Corden faced off for a rap battle on Tuesday night and the tea being served was scalding.
Corden opened with a light offensive: "The only cat woman I acknowledge is Halle Berry." To which Hathaway retorted, "A 'cat woman' diss, gosh, what do I do? I can't make fun of you, James, 'cuz no one's heard of you!" Referencing one of Corden's late night competitors, Hathaway rapped, "I'm like your wife, I watch Seth Meyers instead."
Corden came back with a Devil Wears Prada burn: "Call me Meryl Streep, 'cuz you my assistant. This isn't just for me it's for the whole UK, mad at your awful British accent in the movie One Day."
But Hathaway came through to Hatha-slay: "I was hated and shaded, but now I've been liberated. Now you know what it's like to get Hatha-slayed."
Watch, below.