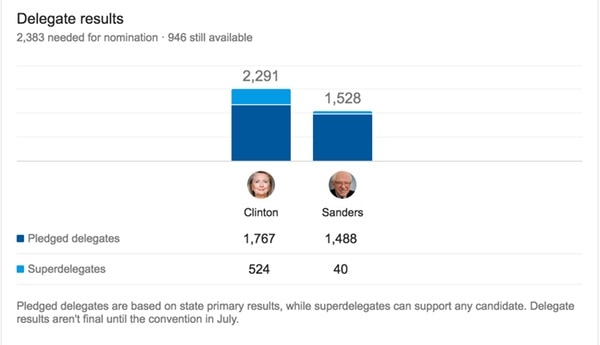 Bernie Sanders won the Oregon primary on Tuesday, earning 28 delegates to Clinton's 24 in that state. Clinton was declared the 'apparent winner' in Kentucky because the vote was so close. They'll each take 27 delegates.
The results bring Clinton to within 100 of the 2,383 needed to clinch the nomination.
Sanders says he isn't dropping out, NBC News reports:
Sanders said Tuesday night he has no plans of dropping out of the race. "This is, in a sense, the beginning of the final push to win California," Sanders told the crowd in Carson.
"I should tell you, that there a lot of people out there — many of the pundits and politicians — they say Bernie Sanders should drop out, the people of California should not have the right to determine who the next president will be," Sanders said.
"Well let me be as clear as I can be: I agree with you. We are in until the last ballot is cast," Sanders said to cheers.
Sanders' statement comes after a rough day in Nevada, where violence and intimidation from Sanders supporters shut down the Democratic Convention there and Sanders' response:
Democratic National Committee Chairwoman Debbie Wasserman Schultz said Tuesday that Bernie Sanders' response to the chaos his supporters caused in Nevada was "anything but acceptable," likening it to the violence occasionally seen at Donald Trump events.
Wasserman Schultz told CNN's Wolf Blitzer that she thought Senate Minority Leader Harry Reid's request that Sanders issue a statement about the chaos "was enough. Unfortunately, the senator's response was anything but acceptable. It certainly did not condemn his supporters for acting violently or engaging in intimidation tactics and instead added more fuel to the fire."
https://www.youtube.com/watch?v=ZpWkEmt6EjQ