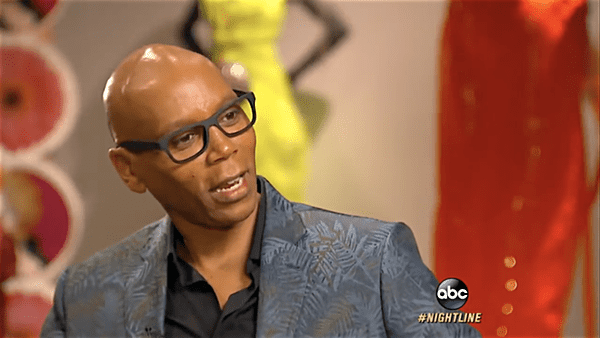 In an interview with Nightline, RuPaul says that he he thinks his hit show RuPaul's Drag Race will never be able to go 'mainstream' because drag is inherently antithetical to mainstream culture.
RuPaul told ABC News' Dan Harris, 
"I don't think the show could ever go mainstream because drag is the antithesis of the matrix. You know, the matrix says, 'Pick an identity and stick with it. Because I want to sell you some beer and shampoo and I need you to stick with what you are so I'll know how to market it to you.' Drag is the opposite. Drag says, 'Identity is a joke,'" RuPaul explained.
He added, "I think that I haven't been accepted in mainstream media outlets like 'The Tonight Show' or 'Ellen' or the late-night shows because the only way they could actually have a conversation with me is to make fun of me, or if they could somehow make a joke about what I'm doing."
Ru also shared his emotional connection to the show and its contestants:
"'Drag Race' is popular because at its core it is the story of the tenacity of the human spirit. We get to see these kids who have been pushed aside by society, who've made a way for themselves to be seen and to be great. And watching them thrive throughout these challenges is captivating, especially knowing their stories. And I know their stories because it's my story. It really is the story of really everyone who thinks outside the box."
He adds,
"You know, show business is not for sissies. Drag ain't for sissies. You've got to toughen up. I'm not on this show to … to make it easy, you know? I wanna prepare them."
But through it all, Ru says he tries to balance his emotional reaction to the contestants' stories with being their mama hen:
"…they're looking to me to know how to react, so I react with compassion and with my heart. But I don't want to break down, even though I do want to break down. You know, I have to stay strong because they see me as Mama Ru."
RuPaul also addressed the way in which mainstream 'straight' culture often steals from gay culture, saying,
"It always has. My whole life time it has. It's fine. We got plenty…Listen as a gay man … I've always been gay. It's always happened in our culture, always, where mainstream culture will say, 'Ooh, I think I'll take that,' you know? It's fine. I'm just calling it for what it is. It's perfectly fine."
Watch the interview, below.