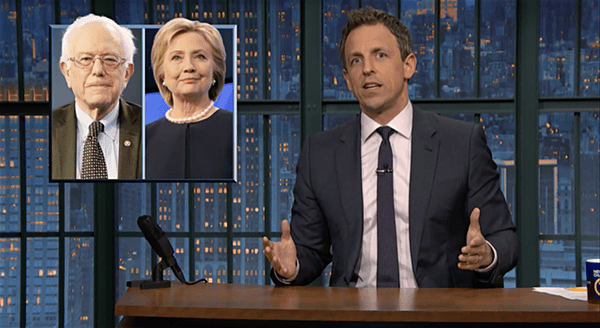 Seth Meyers took a closer look at the ongoing fight betweens supporters of Hillary Clinton and Bernie Sanders on Late Night on Thursday.
Meyers dug into the rift between Sanders and the DNC, accusations that Sanders is a Ralph Nader-esque zombie candidate, and concerns that the growing discord between the two camps will spoil Democrats' chances in November.
While the acrimony may feel particularly worrisome this year, Meyers says there's reason for Democrats to rest assured that party unity will ultimately be achieved.
Said Meyers, "We've heard a lot this year about the so-called 'Bernie or bust' movement, but in 2008 there was something similar going on with Hillary supporters who said they'd never back Obama." He asked, "Does any of this sound familiar?" Meyers then played clips from 2008 which showed Clinton supporters refusing to back Obama.
But, as Meyers points out, "In the end, fear of a John McCain presidency brought Democrats together, and as Hillary herself explained (Thursday) on CNN, a similar dynamic will play out this year." He added, "That's right. Donald Trump can bring people together. Even if they're not washed up celebrities."
Watch, below.
https://www.youtube.com/watch?v=4ZYqz7I9ivw