QUEEN. Dame Helen Mirren isn't a fan of the Kardashians, except for one redeeming quality they seem to have.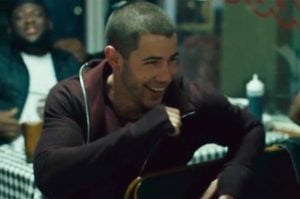 MUSIC VIDEO. Nick Jonas serves up "Bacon."
ELECTION THROWBACK. John Legend performs "If You're Out There" at the 2008 Democratic National Convention. 
"MEXICAN HERITAGE." Donald Trump says his racist remarks about a federal judge were "misconstrued": "It is unfortunate that my comments have been misconstrued as a categorical attack against people of Mexican heritage. I am friends with and employ thousands of people of Mexican and Hispanic descent. The American justice system relies on fair and impartial judges. All judges should be held to that standard. I do not feel that one's heritage makes them incapable of being impartial, but, based on the rulings that I have received in the Trump University civil case, I feel justified in questioning whether I am receiving a fair trial."
NEVER TRUMP. Lindsey Graham says he won't vote for Donald Trump, encourages Republicans to unendorsed Trump: "If anybody was looking for an off-ramp, this is probably it." Illinois Senator Mark Kirk refuses to endorse Trump, says Trump's most recent racist remarks were the straw that broke the camel's back: "It is absolutely essential that we are guided by a commander-in-chief with a responsible and proper temperament, discretion and judgment. Our president must be fit to command the most powerful military the world has ever seen, including an arsenal of thousands of nuclear weapons."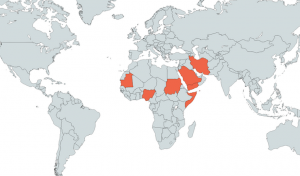 ANTI-GAY. Every country in the world that criminalizes homosexuality in one map.
RED PLANET. SpaceX CEO Elon Musk says company could send astronauts to Mars as soon as 2024: "'The basic game plan is that we're going to send a mission to Mars with every Mars opportunity from 2018 onwards,' Musk said. Launch windows for Mars missions open every 26 months, with the next opening in the spring of 2018. 'We're establishing cargo flights to Mars that people can count on,' he said. 'I think if things go according to plan, we should be able to launch people probably in 2024, with arrival in 2025.'"
O, CANADA. Our neighbors to the north look to make their national anthem gender neutral: "Bill C-210, which passed 219 to 79, proposes to switch just two words in the lyrics of 'O Canada' — changing "in all thy sons command" to "in all of us command" in one verse. The simple substitution is meant to do away with the exclusively male phrasing in part of the song, but it's also causing an uproar among some conservative members of Canada's government."
MUSIC. ABBA reunites for rare performance together: "ABBA officially split up in 1982, but the last time they had performed together before last night was in 1986."
PROM SEASON. Johnny Depp's daughter Lily-Rose Depp went to the prom with Kevin Smith's daughter, as one does.
BLACK HOLES. Stephen Hawking makes significant addition to his work on black holes: "Working with two colleagues, he found that the essential properties of whatever falls into these cosmic pits may, after all, survive. Or, as he put it recently, black holes 'are not the eternal prisons they were once thought.'"
GAME OF THRONES. New hints about what to expect in next week's episode.
TOO HOT FOR TUESDAY. Ali.
https://instagram.com/p/BF6phWtEkY1/
https://instagram.com/p/BF4ZgyVEke-/
https://instagram.com/p/BGKldEZkkVP/