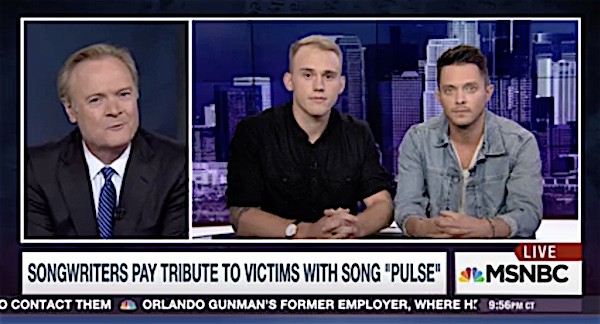 Singer-songwriters Eli Lieb and Brandon Skeie stopped by MSNBC's Last Word with Lawrence O'Donnell  late this week to talk about their song "Pulse", a heartfelt tribute they wrote in honor of the 49 victims of the Orlando attack.
Lieb and Skeie "wrote the song we've been waiting for, the song that captures our feelings," said O'Donnell. "It is the perfect song of remembrance for the 49 who lost their life." He called it "a miracle of a song."
T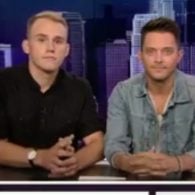 he Last Word host was impressed the duo had written it in a just a couple of hours:
"Sometimes you come across something, and it's like you are channeling it.  That's when know you have something special. With this, I knew that something good was going to come out because of the intentions behind it," Lieb explained.
Skeie added that their intention was to "show a united front." He wants all of us "to come together," so their idea for the song was to "unify, and to provoke, and to get people's emotions and thoughts stirring. This does not have to happen again."
"It's also very personal to us," said Lieb. "We know singlehandedly what it feels like to be discriminated against. I wouldn't change who I am for anything, but it can be very difficult sometimes. I enjoy being able to get other people to see that it's a joy and to not be afraid of who you are."
Check out the full interview below: