HACKED. Mark Zuckerberg's Twitter and Pinterest accounts hijacked: "We don't know for sure how OurMine Team pulled off the hacks, but the group is claiming it was all thanks to the LinkedIn password dump from a few weeks ago. Millions of LinkedIn user account details leaked online last month, with the company reacting by invalidating the credentials and contacting affected members to reset their passwords. But the story doesn't end there, because as we all know, many people like to reuse the same password on different online services. Including Mark Zuckerberg, apparently."
Ouch. Mark Zuckerberg's social media accounts have been hacked pic.twitter.com/KvVmXOIg5s

— Ben Hall (@Ben_Hall) June 5, 2016
VEGAS BABY. Lady Gaga getting Las Vegas residency? "Following reports Justin Timberlake is eyeing a deal to be one of the resident headliners at the newly renovated Park Theater at Monte Carlo, and he may be joined by Lady Gaga. A new report from the Las Vegas Sun claims Gaga could be inking a deal to perform there for a string of dates as well."
FREE MORGAN. SeaWorld Orca in Tenerife seen demonstrating behavior that appeared suicidal. "Morgan was filmed slumping motionless at the side of a pool for more than ten minutes at Loro Parque in Spain's Canary Islands. It comes as footage appeared to show the orca repeatedly banging her head against a metal gate in a desperate attempt at escape just weeks earlier."
JUNK IN THE TRUNK. Bryan Hawn on how to create the perfect derriere: "As a young boy, I dreamed of having a muscular physique. I bought t-shirts and jeans one size too small, hoping that they would cling to my body and enhance the little muscles that I had developed. But all this did was draw more attention to the beanpole physique that I clearly had standing at 6'1″, hoping and praying for the day the scale would hit 150 pounds. I was fascinated with muscle and fitness magazines and fantasized about slabs of muscle bulging out of my clothes: a rock solid chest, big biceps and forearms and muscular legs. But more than anything, I wanted that perfect round, tight, bubble butt that was so entrancing as it moved in a pair of jeans."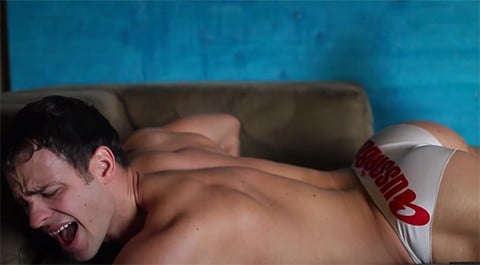 BEARDS. GQ says they aren't over: "Some proper scruff provides a touch of organized chaos, and can dramatically elevate your look with only minimal input. (All you have to do is stop shaving, really.)"
KANYE. Pandemonium breaks out at surprise concert at NYC's Webster Hall which was then shut down: "Chants of "Pablo! Pablo!" filled the night air outside of the venue ahead of West's performance, which had not yet been unannounced as of 1 a.m. local time. The rapper booked the last-minute show as a makeup for Governors Ball, which canceled its day three lineup due to inclement weather. Rumors of a set a Hot 97 Summer Jam followed along with cryptic tweets of a to-be-announced venue. But once word started spreading of a Webster Hall gig, thousands swarmed on 13th Street in the East Village, with one observer noting "near-riot" conditions, with people on top of cars. "It's pandemonium."
https://twitter.com/iLoveMyEgo/status/739690751068622849?ref_src=twsrc%5Etfw
TENNIS. Novak Djokovic wins French Open, completes career Grand Slam: "The victory made Djokovic the eighth man to complete the tennis career Grand Slam. More remarkably, he became the third man after Don Budge in 1938 and Rod Laver in 1962 and 1969 to hold all four of the major singles titles at the same time. Call it a Djoker Slam in this instance."
Djokovic celebrated on Facebook Live after the win:
WILLY WONKA STYLE. McDonald's Japan is giving away a Golden McNugget. "One lucky person will win the 1.8-ounce golden chunk, reportedly worth about $1,500. Competition entrants have to follow clues on Twitter and around Japan to find the campaign's mascot, a mysterious nugget thief called Kaito Nuggets, and the bejeweled nugget itself inside a five-piece McNugget pack."
https://www.youtube.com/watch?v=wbMcLtbbxKU
ANIMAL INSTINCTS. Lion pounces at toddler at zoo in Japan.
https://www.youtube.com/watch?v=giKSrXY9-cQ
MONDAY MUSCLE. Personal trainer Mauro Yoshida.
https://www.instagram.com/p/BGEg4eeJkgy/?taken-by=mawrinho
https://www.instagram.com/p/BGDN7NLpkgh/?taken-by=mawrinho
https://www.instagram.com/p/_KgkDtpkjq/?taken-by=mawrinho
https://www.instagram.com/p/-Lk0fopknt/?taken-by=mawrinho
https://www.instagram.com/p/BFo75A-pkg5/?taken-by=mawrinho