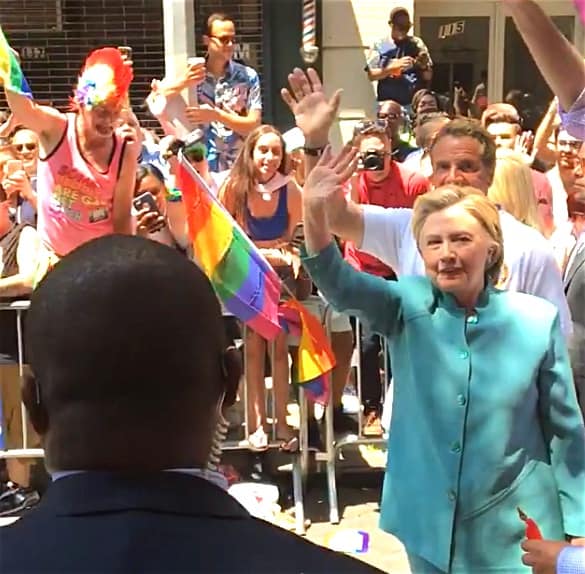 Joining New York Governor Andrew Cuomo and NYC Mayor Bill De Blasio, presumptive Democratic presidential nominee Hillary Clinton stepped in to the NYC Pride March on Christopher Street, just steps from the recently designated Stonewall National Monument.
Clinton marched for four blocks, waving and greeting onlookers.
It was the first time a presumptive presidential nominee from any major party has marched in the parade.
Here's an Instagram post shot by former Clinton aide Richard Socarides:
https://www.instagram.com/p/BHIM03bg7f4/
And some additional video:
The scene around @HillaryClinton @NYGovCuomo @BilldeBlasio marching in the #NYCPrideParade pic.twitter.com/Kkgf7H4jS9

— Monica Alba (@albamonica) June 26, 2016
https://www.youtube.com/watch?v=ysWlpmGu20Q
The parade also featured Gays Against Guns (GAG) a group formed in the wake of the Orlando massacre which took the lives of 49 people at the LGBT nightclub Pulse on June 12.
The group held a "die-in" while marching down Fifth Avenue and were followed by veiled marchers holding photographs of the 49 victims of the shooting.
https://www.instagram.com/p/BHIFt36j35x/?taken-by=tlrd
https://www.instagram.com/p/BHIF5b8jr0L/?taken-by=tlrd
https://www.instagram.com/p/BHIGFL7DA0l/?taken-by=tlrd
Police provided increased security for this year's parade, but they also took part in it, and accompanying their contingent was a patrol SUV painted in rainbow logos which featured a message of solidarity for the victims in Orlando.
https://www.instagram.com/p/BHIGORCDVhI/?taken-by=tlrd